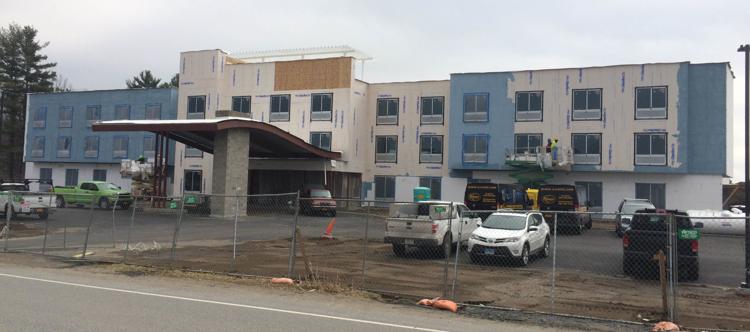 QUEENSBURY — The area off Northway Exit 18 could look very different in the next couple of years, with a new hotel set to be completed late this summer, plans for a Saratoga Hospital health-care facility at the old Carl R's restaurant and another restaurant potentially coming.
Developer Ed Moore is building a 77-unit Fairfield Inn and Suites on Big Boom Road.
"If we had our druthers, we'd love to be open in August," Moore said last week during a tour of the site.
More likely, it will be around Sept. 1, he said.
Construction on the roughly $10.5 million project started in September. The general contractor is Bette & Cring Construction Group of Latham.
General Manager Tyler Herrick said the developers are looking to serve people between Saratoga Springs and Lake George. The location off the Northway is perfect, he said.
The targeted hotel patrons are families and business travelers who used the Marriott Bonvoy rewards program, according to Herrick.
Fairfield Inn and Suites is one of Marriott's limited-service brands. Herrick said this means there will not be a full-service restaurant on site, but there will be a breakfast buffet and a bar serving beer and wine.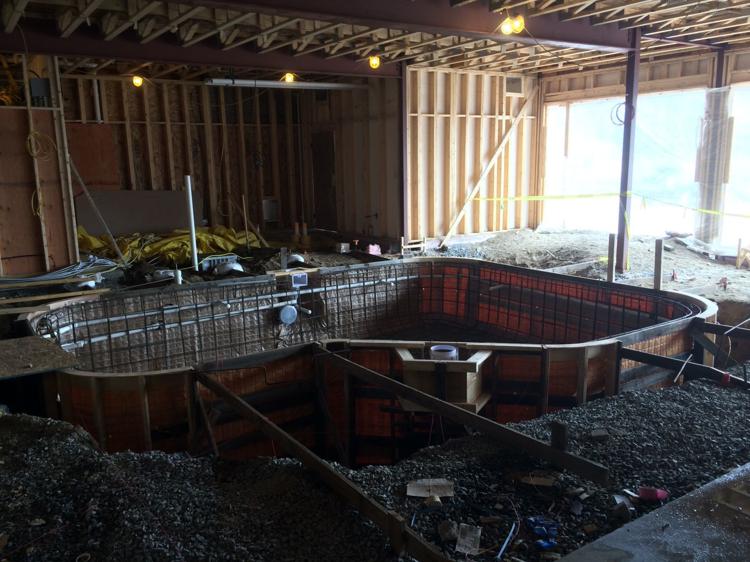 The first floor will have the lobby, breakfast bar and indoor pool and rooms. The second and third floors will have rooms, including 16 suites. The rooms have an open floor plan, according to Herrick. There also will be an outdoor hot tub and patio.
You have free articles remaining.
Moore said he consciously decided not to have a full-service restaurant. He believes there will be a nice synergy between the new hotel and The Queensbury Hotel he owns in downtown Glens Falls. He plans to have a shuttle service to connect people to downtown.
The room rates will be about $99 to $119 per night in the off-season and $179 to $239 in the summer. Suites will have a higher rate.
Moore said The Queensbury Hotel will not be able to accommodate all the demand for rooms, especially when it proceeds with its project to expand its ballroom and increase its conference booking business.
"We think it's going to play off each other very well," he said.
Moore said some people question whether this market can support another hotel, but he says that Marriott would not agree to this venture without assurances that it was viable.
"They do their studies. They know there's a need for this type of limited-service hotel," he said.
Moore said the hotel will feature the updated design scheme for the Fairfield. He could have gone with the traditional package, but he wanted to spend the money to get a more modern look, he said.
Out are the pastel colors, and in are more earth tones and wooden accents, according to Herrick.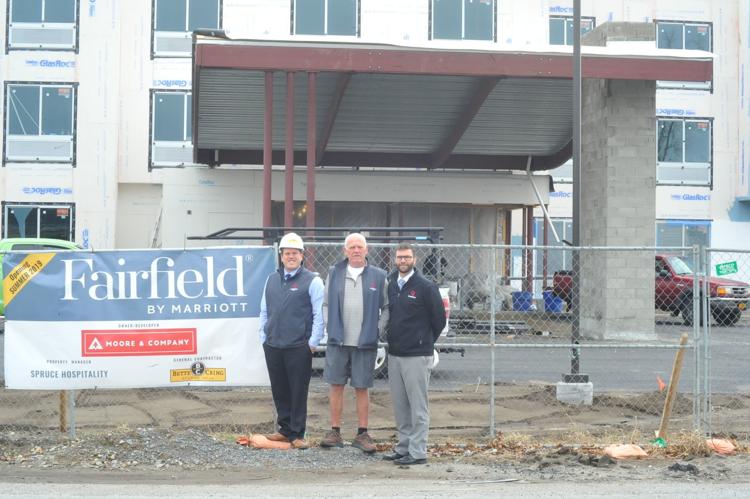 The area near Exit 18 will be transformed in the coming years. Moore owns a pad site on Big Boom Room and said he is seeking a franchise restaurant for that spot.
The old Carl R's restaurant is set to be torn down for a project by Saratoga Hospital to house a medical facility. Hospital officials are still determining the exact use, but are thinking of using it for urgent care, diagnostic services and medical offices for specialties such as nephrology and pulmonology that the hospital already offers in the Glens Falls area.