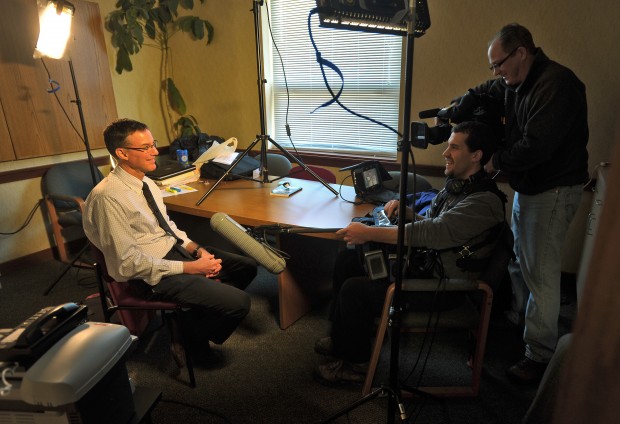 GLENS FALLS -- A local health center that is part of a new regional "medical home" program is set for some national exposure for its introduction of electronic medical information technology.
A freelance film crew, working for CNBC, was at the Health Center on Broad Street in Glens Falls on Tuesday to document the first day of operation of a new "e-prescribing" system.
Also on Tuesday, Bertha Coombs, a CNBC general assignment reporter and substitute anchor, interviewed staff at the health center via conference call for an upcoming report about electronic medical records technology.
It is not clear when the segment will air or how long the segment will be.
A receptionist at the CNBC assignment desk said Coombs is working on an "enterprise" piece that only she could provide information about.
Coombs did not return voice-mail messages The Post-Star left on Tuesday and Wednesday.
The new electronic prescription system is one step in the introduction of electronic technology as part a new regional "medical home" program that began Jan. 1, said Dr. John Rugge, chief executive officer of Hudson Headwaters Health Network, which operates the health center and others.
"The medical home model is all about assuring good access, effective communications and careful follow-up with patients," he said.
Hudson Headwaters is among a number of medical providers from Glens Falls to the Canadian border participating in the program that involves health centers, hospitals and insurance companies in five counties in a cooperative system intended to improve care and reduce health care costs over time.
One way they hope to accomplish that is by sharing medical information electronically.
The concept evolved from a regional health care summit in 2007, called to address a shortage of doctors in the Adirondacks.
State and local officials have touted the medical home program, which began Jan. 1, as a national model for providing health care in rural areas.
Prescribing medications electronically is one part of the that.
The Web-based prescription system, designed by Athena Health Inc., improves accuracy, efficiency and convenience over traditional hand-written prescriptions, Rugge said.
"All of our medications we're prescribing are entered in to the record and we know they are legible in and in English," he said.
The system is tied in with a information database, so the prescribing physician has a record of medications prescribed by other physicians, such as specialists.
This reduces the chance of side effects from interaction with another medication, and also provides a good way to monitor if a patient is indeed taking medications that have been prescribed, Rugge said.
The system has a pop-up message feature that warns a physician about medications a patient might be allergic to or that would potentially interact with another medication the patient is taking.
In order to prescribe the medication, the physician would have to override the warning message, Rugge said.
The database also would inform the prescribing physician what brand of medications the patient's insurance company prefers, reducing the chance of confusion when the patient gets to the pharmacy.
"By the time the patient has checked out of the health center, the prescription is already at the pharmacy being filled," Rugge said.
Athena Health Inc., the company that designed and sells the electronic prescription system, recommended Hudson Headwaters to CNBC, said Howard Nelson, executive director of the Hudson Headwaters Health Foundation.
When Coombs contacted him about the report, he recommended featuring a health center chain that provides services to a vast geographical region, said John Hallock, director of corporate communications for Athena Health.
"I said, 'You should really focus on a city that's not in Boston or, you know, Cleveland or all these kind of medical hubs that you often hear about,'" he said. Hudson Headwaters operates 12 health centers in Warren, Saratoga, Essex and Hamilton counties.
Hudson Headwaters first introduced the e-prescribing system at Queensbury Family Health in October, and has been gradually introducing it at its other health centers, Rugge said. All of its health centers will be using the system by June.
The business news you need
With a weekly newsletter looking back at local history.