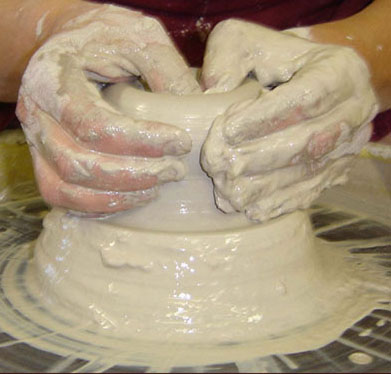 I don't think I could ever get tired of watching a person work a pottery wheel.
It is such a magical process. The Girl Scouts I brought to the Clay Concepts Studio at The Shirt Factory in Glens Falls yesterday, I think would agree.
Gathering around demonstrator Dolores Thomson, most of the girls were seeing a pot thrown on a wheel for the very first time. Those in the front row had their mouths hung open in awe.
Our scouts are continuing to work on their art badge. So far we have visited the Hyde in Glens Falls, the Tang at Skidmore College in Saratoga Springs and yesterday were exploring the many studios at the Shirt Factory to see artists at work.
The culmination of our art badge will be a troop art show at Samantha's Café on Broad Street in June. The girls have been working hard making art inspired by the things around them.
If the little artist in you life would like to try his or her hand at clay work, Clay Concepts Studio offers a "Kids Fun with Clay" class every Saturday morning from 10 to 11:30 a.m. Each class is $40 and includes instruction, all materials and firings. To learn more, visit www.clayconceptspottery.com.