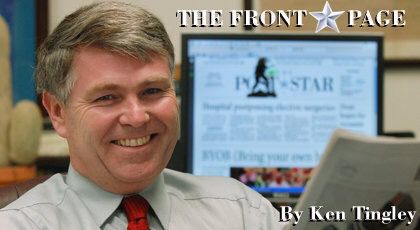 From time to time I have written about my obsession with the music of Bruce Springsteen.
If you are lucky, really lucky, you will have at least one time in your life when music speaks to you, when it lifts you up and gives you hope. That happened to me.
It was the fall of 1977 and I had just moved into my dorm room at Eastern Kentucky University. I got talking to the guy in the room next door. He was from New Jersey. Inevitably, when you talk to someone from New Jersey, the talk turns to Bruce Springsteen.
He played me Springsteen's second album – "The Wild, the Innocent and the E Street Shufle" – and introduced me to the song "Rosalita," a heart-pounding rock and roll anthem that tells the saga of a kid with no prospects suddently getting his big break as he sings to his girl about her father knowing he didn't have any money:
Well, tell him this is his last chance to get his daughter in a fine romance,
Because a record company, Rosie, just gave me a big advance.
I listened to that song until I knew it by heart.
When you're 20 years old and everyone in your family works in a factory, it was easy to relate to Springsteen and that dream of doing something different than anyone else, leaving the factory town and having a career.
A year later I saw Springsteen and the E Street Band in concert for the first time. That number is now approaching 30.
The movie "Blinded by the Light" opens this weekend and is playing locally. I suspect I will be there.
The movie is not particularly about Springsteen or his career, but a Pakistani boy growing up in England who has that moment when the music speaks to him.
The music is from Springsteen.
A few years ago, a colleague, perhaps concerned by the number of Springsteen shows I was attending, asked why I liked him so much.
I paused, and thought a second, then said, "Because his music makes me happy."
Ken Tingley is the editor of The Post-Star and may be reached via email at tingley@poststar.com. His blog "The Front Page" discusses issues about newspapers and journalism. You can also follow him on Twitter at www.twitter.com/kentingley.
Be the first to know
Get local news delivered to your inbox!