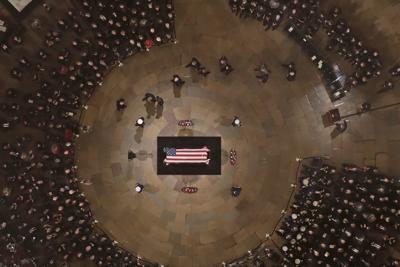 When I heard the news right before midnight Friday that President George H.W. Bush had died, my first response was instinctual – Can we get the news in the newspaper?
We could not. Since we now print the newspaper in Schenectady, there could be no "stop the presses" moment that allowed for a replate of the next day's front page. We would have to wait until Sunday's newspaper.
The extra time did allow for us to put together a significant reaction story about President Bush's impact on the acid rain problem in the Adirondacks. But it still made shifting our focus for that Sunday.
Most weeks, our main story on Sunday is planned well in advance. It is a story designed to add depth to our coverage of the region. But the death of a former president meant we needed to change our focus. I look at it as an historical moment.
We held Sunday's scheduled story for next week and went with a main story on President Bush's life and times while also including the reaction story from one of our reporters. Our national desk from Lee Enterprises also provided a timeline of President Bush's life and accomplishments on an inside page.
It meant our copy desk and Saturday reporter had to scramble a little, but of course, that is what the news business is all about.