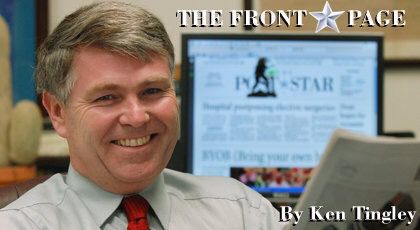 The speakers who brought up The Post-Star at last night's Common Council meeting did not speak kindly of the newspaper.
After an hour or so of speakers going on in great detail about the bad language and intimidation directed at both sides during the recent political demonstrations, one man stood up and said that this entire meeting was because the newspaper had made things up.
It seemed an odd thing to say since a dozen or so people had already talked in great detail about the behavior the newspaper had accurately reported in the newspaper. He concluded by saying the newspaper made up a report that one group was going to bring unloaded guns to a rally.
Shortly after the public hearing concluded, and most of the 60 people in attendance had cleared the room, Councilwoman At-large Jane Reid addressed the handful of people remaining to confirm that the newspaper had gotten its information directly from city officials. It was not something we at the newspaper had made up.
In fact, we stand by all our reporting on the protests.
Reid also thanked the newspaper for its "courageous" reporting on the issue.
Even if it was a little late, the sentiment was appreciated by the men and women on our staff who have covered this issue.
Ken Tingley is the editor of The Post-Star and may be reached via email at tingley@poststar.com. His blog "The Front Page" discusses issues about newspapers and journalism. You can also follow him on Twitter at www.twitter.com/kentingley.
Be the first to know
Get local news delivered to your inbox!