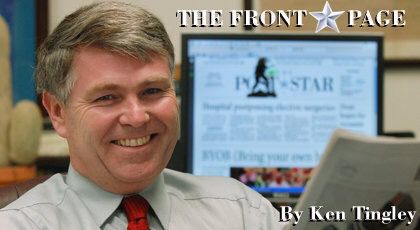 Mary Miller, the educational services director for the New York News Publishers Association, has been presenting a popular program to schools in the Capital District recently.
Miller, who is presenting the program, "Seeking and Finding the Truth in a Fake News World" at the BOCES on Ballard Road in Wilton on Nov. 20, has presented 15 similar programs around the state since August.
She's a former newspaperwoman, and I had a long and exhilarating interview with her earlier this week while preparing to do my Sunday column. Only an impending news meeting forced the interview to be cut short. We shared many of the same observations about consumers of news.
Sunday's column will go into depth about how Miller's program came about, what she has found, and what the reaction has been to those who have heard it.
She said she often tries to avoid politics in a discussion by using a sports analogy instead.
"`Let's talk sports, it's safer,' I'll say," Miller explained and used the Boston-New York rivalry in Major League Baseball. "The truth is the way the game happened. What is the story? The score of the game. We all can agree on that. The coverage in the New York Daily News will be vastly different than the Boston Globe reporting. Which one is fake news? Neither. There isn't always fake news. Who the audience is might be important. The truth is there is gray matter in the middle we all can agree upon."
Miller talked about the bias of individual reporters as well.
"If I'm a reporter, a 55-year-old white female from suburbia with kids, and someone else, an African-American male with no children, are covering the same meeting, we are going to hear two different things, depending on what our preconceived notions are. What is the nugget I got out of the meeting will be different. You can't help it. It is who you are.
"I don't know a reporter that can completely divorce themselves from what they are reporting on, but that doesn't make it fake news, or necessarily opinion," Miller said.
I suspect many of our readers worry more about bias in their news sources than ever before. The interview with Miller will shed some light on those concerns.
And if you are a teacher, you might want to think about signing up for Nov. 20 presentation.
Ken Tingley is the editor of The Post-Star and may be reached via email at tingley@poststar.com. His blog "The Front Page" discusses issues about newspapers and journalism. You can also follow him on Twitter at www.twitter.com/kentingley.
Be the first to know
Get local news delivered to your inbox!