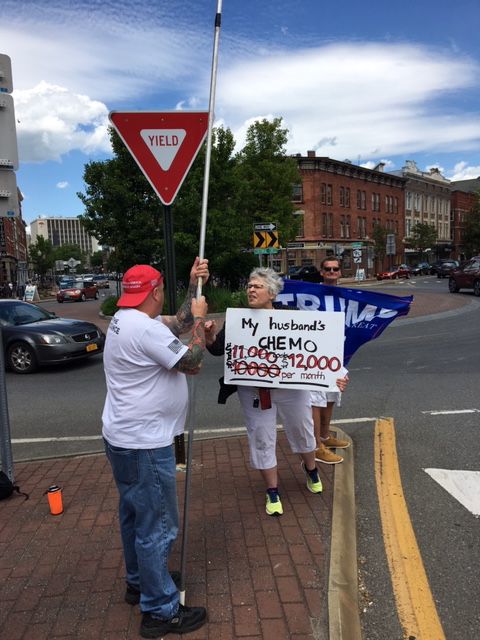 I've been extremely worried about the political discourse in our community lately, and I made that clear on Sunday.
I recounted my experience at an anti-Trump rally in Glens Falls and voiced my concern that my pleas with the local political leadership to participate in the Better Angels workshops were not being heeded.
Better Angels is a national organization hoping to bridge the political divide.
After the column published, I heard from Johnsburg Supervisor Andrea Hogan and Glens Falls Supervisor Bill Loeb.
Both informed me that there was representation from the Warren County Board of Supervisors at the Better Angels workshops. Loeb wrote that Bolton Supervisor Ron Conover, Horicon Supervisor Matt Simpson and Glens Falls Supervisor Ben Driscoll all attended an information workshop.
It was great news and I hope there are other political leaders that attended as well. Of course, the real goal is for them to do something to bring the community together, but this is a great start.
I also heard from two people who attended the rally in Glens Falls.
I was disturbed by what I saw there and said so. I felt the back and forth was intense enough that things could have gotten out of hand very quickly.
Thankfully, they did not.
But the two people who contacted me wanted me to know that things got better after I left.
Pro-Trump and anti-Trump demonstrators gradually talked to each other, and while they disagreed, they were able to remain civil and talk out some of their differences.
I missed that part and I wish I hadn't. It's almost unheard of in this day and age.
What is clear is that we need that type of civil discourse, the type of discourse that Better Angels is trying to delivery across our communities.
One of the women who contacted me said she had also been involved with Better Angels and hoped to do more in her own community.
Maybe there is hope out there, and maybe Better Angels is starting to make a difference.
Ken Tingley is the editor of The Post-Star and may be reached via email at tingley@poststar.com. His blog "The Front Page" discusses issues about newspapers and journalism. You can also follow him on Twitter at www.twitter.com/kentingley.