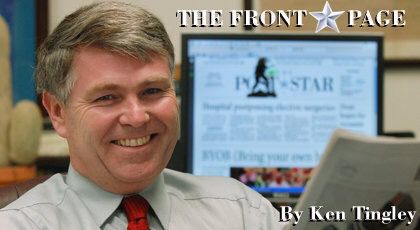 The television announcers called Joseph Girard III a basketball legend in Glens Falls.
Anyone who regularly saw Girard's prestigious scoring displays when he played basketball here couldn't help but wonder how that might translate at the Division I level.
I got my first chance to see Girard play on television Wednesday night when Syracuse played an unbeaten Oklahoma State team at the Barclays Center in Brooklyn. It was clear Girard belonged on the big New York stage.
He was usually the smallest player on the court Wednesday night, but while playing just his sixth game of Division I college basketball, he played more minutes than any other Syracuse player (35). His 12 points were second on the team and his nine assists led the team.
For me, the biggest difference between Girard the high school player and Girard in college was his point guard play. At Glens Falls, he regularly handled the ball, but it almost always resulted in a shot. In his new role, Girard is trying to find open teammates.
He is currently averaging 4.2 assists a game to go along with his 10.8 scoring average. I suspect both those numbers will go up as the year goes on.
Although Syracuse lost Wednesday, it has a young team. It appears that Girard will be a big part of it going forward.
Syracuse will be playing Penn State in Brooklyn on Friday at 6 p.m.
Ken Tingley is the editor of The Post-Star and may be reached via email at tingley@poststar.com. His blog "The Front Page" discusses issues about newspapers and journalism. You can also follow him on Twitter at www.twitter.com/kentingley.
Be the first to know
Get local news delivered to your inbox!