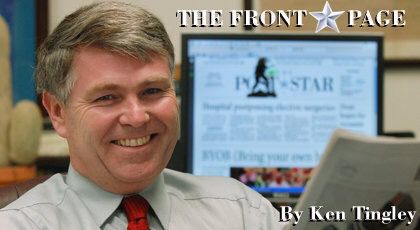 While news is always going to take precedence on our front page – even on a feel good holiday like Christmas – our front page was shaping up with a strong holiday presence. But anytime a sitting U.S. senator visits the region, it is news.
While you have to applaud the effort of Sen. Schumer in making an appearance in all 62 of New York's counties each year, the timing of Monday's visit to Washington County – the last of his 62 county stops - was a bit of a downer.
Sen. Schumer unpacked a very serious issue regarding farmer suicides right before the holidays, but the statistics Sen. Schumer used showed that suicide rates in Washington County are about the same as the state average. The suicide rate is actually much worse in neighboring Warren County.
While suicide is an important issue, and the holidays can trigger depression and stress in many, it did seem a little like Sen. Schumer was matching an issue with Washington County just because it has a high concentration of farmers.
Back to our front page meeting where we had two Christmas-themed stories slotted to run with Schumer's visit. We talked about whether Schumer's concern about farmer suicide was a good fit on the front page.
We ultimately decided to make the Schumer story our local page centerpiece where we had two pieces of Christmas-themed commentary. Granted, we are probably the only people who worry about things like this, but these are the types of things we talk about in our page 1 meeting.
We're hoping the balance of real news and Christmas-themed commentary struck the right balance.
And remember, no newspaper on Christmas Day.
Ken Tingley is the editor of The Post-Star and may be reached via email at tingley@poststar.com. His blog "The Front Page" discusses issues about newspapers and journalism. You can also follow him on Twitter at www.twitter.com/kentingley.
Be the first to know
Get local news delivered to your inbox!