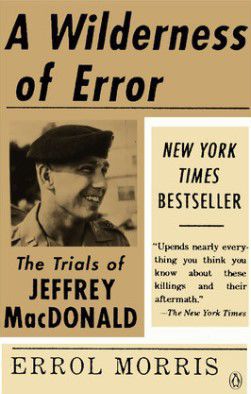 I read "A Wilderness of Error," by Errol Morris, published in 2012. It concerns the murder in 1970 or the wife and two young daughters of Jeffrey MacDonald, a doctor and a Green Beret. MacDonald, also in the house when the murders were committed, was seriously injured, with a punctured lung and other injuries, but survived. Over many years, after investigators decided at the start that he was the killer, MacDonald was prosecuted and, finally, convicted. It was, I am convinced after reading Morris' book, one of most flagrant abuses of the criminal justice system and unfair convictions in modern history. 
Morris is a brilliant guy. His movie, "The Thin Blue Line" exposed the unfair conviction for murder of a man in Texas who was later freed. This time, he couldn't get MacDonald freed. But I defy anyone to read this whole book without concluding the guilty verdict was unfair. At the very least, Morris etablishes that MacDonald was not guilty beyond a reasonable doubt. For me, the doubts were so numerous and weighty — the bad faith of police and prosecutors so well-established — that I am convinced MacDonald is innocent. Horribly, he still sits in jail.
One character stands out for his loathsomeness in this book — the journalist and author Joe McGinniss, who died in 2014. What an absolute worm. He wormed his way into MacDonald's graces (after MacDonald had been charged but before his trial) by writing him letters filled with sympathy and compliments, including statements of his belief in MacDonald's innocence. He was granted inside access to MacDonald — even moving in with him — and his defense team and then, after the conviction, he made a calculation that a story about MacDonald's guilt would sell better and he betrayed the man he called "best friend," writing a book filled with innuendo and speculation called "Fatal Vision" that made MacDonald look guilty.
The book was a best-seller and a mini-series based on it was seen by millions. After that, it was impossible for MacDonald to get a fair hearing on new evidence. There was a lot of new evidence, too, including multiple on-the-record statements by a woman who said she was at the house with the murderers — a group of young people high on drugs. 
I can't review the whole huge complicated case here. But if you have had any feelings about it, you should read this book, because much of what you thought you knew was likely wrong.
Will Doolittle is projects editor at The Post-Star. He may be reached at will@poststar.com and followed on his blog, I think not, and on Twitter at
@trafficstatic.
Be the first to know
Get local news delivered to your inbox!