Blog: Memorable game was played while country fell apart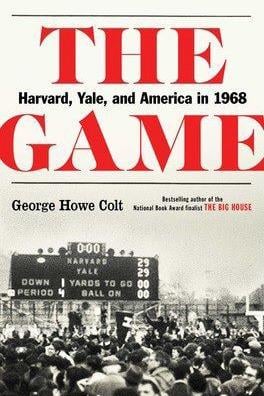 I read "The Game," by George Howe Colt, published in 2018 by Simon & Schuster, a nonfiction book about the 1968 football game between Harvard and Yale, which pitted two undefeated teams against each other in the context of campus demonstrations and nationwide turbulence over the Vietnam War.
It's a good book, balancing exciting descriptions of the two teams' games that season, and a thrilling depiction of their end-of-season showdown, with explorations of the players' private lives and reporting on what was happening on the campuses and across the country with demonstrations against the Vietnam War.
The book has a broad perspective, which gives the game a feeling of historical importance but takes away from the poignancy of the individual players' stories. If the book had focused more deeply on one player, or a couple of them, I would have been more caught up in it and cared more. As it was, I wanted to know more about certain characters (like Yale's star back, Calvin Hill) and less about others (like Yale's star quarterback, Brian Dowling.)
The importance of the Harvard-Yale game in general, and of this particular one, too, has fallen in popular opinion, and that is fitting. The importance of football games, at every level, is inflated in American culture — most egregiously, by the American press. The most encouraging story in the book is about the Harvard star player who decides to quit the team and devote himself to causes, like helping young black teenagers, he considers more important.
Colt took on a difficult task in coming up with a book that's a reasonably quick read while telling two big stories at once — one about football, the other about cultural change. By the end, I found the football story thrilling (and was left wanting more), while the story of cultural change, with war protests as the catalyst, was unfocused and inconclusive. Maybe that's because the protests were unfocused and the changes were inconclusive.
This is more than a sports book, which gives readers who couldn't care less about Ivy League football a reason to read it. But Colt's broad perspective also is a distraction from the most compelling story in the book, which is the one about two teams' undefeated seasons and the amazing game that is meant to decide which is better, and incredibly, doesn't. 
Will Doolittle is projects editor at The Post-Star. He may be reached at will@poststar.com and followed on his blog, I think not, and on Twitter at
@trafficstatic.