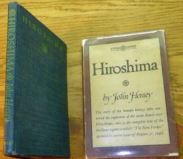 I read "Hiroshima" by John Hersey, a short book that was first serialized in The New Yorker magazine. I had previously read "Black Rain" a novel by Masuji Ibuse, published in 1965 and also serialized first, in a Japanese magazine, but based on documentary reports from survivors of the bombing. I couldn't help thinking of "Black Rain," with its sustained horror and dread, the whole time I was reading Hersey's matter-of-fact account of the bombing, told from the points of view of a handful of survivors. Hersey's book is well done, and it's impressive he was able to put it together so soon after the event — it was published in 1946 (I wonder whether he went to Hiroshima to do the reporting and exposed himself to radiation) — but it lacks the force of Ibuse's work.
I do think a journalistic account of the bombing could be as forceful as a novelistic one. But Hersey's account, although it includes many scenes of horror and pity, is watered down by his attention to mundane details and the way normalcy reasserts itself even in the midst of devastation. At that point, just a year after the bombing, the long-term effects could not be appreciated, and I felt Hersey didn't anticipate the momentousness of the event, nor the profound ways it would affect Japanese society even a generation later. Ibuse does appreciate all this, so not only does he include many of the same scenes of horror as Hersey — victims wandering with their arms held out before them so they wouldn't brush against their bodies, where the skin was sloughing off; children buried in rubble crying for help as fires approached; seemingly healthy survivors growing weak a couple of days after the bombing and lying down to die — he includes a story about a couple who are guardians of their niece, trying to find her a suitable husband, but unable to do so, because she was exposed to the toxic black rain that fell after the bombing.
I'd been curious about Hersey's "Hiroshima" for a long time. It does, just in its portrayal of the damage, make the case that use of such a weapon is inherently immoral. But then you have to ask yourself — if that is immoral, what about the fire-bombing of Tokyo, which killed about the same number of people (100,000 is a very rough estimate) as the atomic bombing of Hiroshima? What about the Allied bombing of Dresden that created a firestorm and killed about 25,000 people? Most of the dead, in all of these cases, were civilians. I don't have the answers to these questions, but I do think the perspective is very different from today than it was from the point of view of, say, Allied soldiers at the time, or Allied commanders, and that could also explain, in part, the very different tone of Hersey's and Ibuse's books.
Will Doolittle is projects editor at The Post-Star. He may be reached at will@poststar.com and followed on his blog, I think not, and on Twitter at
@trafficstatic.
Be the first to know
Get local news delivered to your inbox!