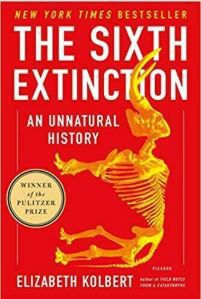 I read "The Sixth Extinction" by Elizabeth Kolbert, a book that is more science-heavy and less polemical than I expected. I read her previous book, "Field Notes from a Catastrophe," also about climate change, and found it to be underwhelming, even though it created quite a stir. For much of the book, I felt similarly about "The Sixth Extinction," but like a prosecutor who saves her best stuff for the closing argument, Kolbert pulled together her scattered chapters at the end and made a strong if still understated case for taking action.
You have free articles remaining.
The book is more a chronicling of what is happening now — mass extinction of species because of human activity — and a placement of that in context than a call for action. In this case, the context is very broad, encompassing hundreds of millions of years and the previous five mass extinctions. The most famous of those is the one that took place at the end of the Cretaceous period, when a large meteor slammed into Earth down by the Yucatan Peninsula, sending a cloud of superheated particles over the planet that incinerated pretty much everything on the surface. Compared with that, what is going on now is quite the anticlimax, but it's devastating nonetheless. 
I like science books for lay people but, usually, they're written by scientists, like Steven Pinker. This is a science book for non-scientists written by a non-scientist, and sometimes it feels like Kolbert, with her understated style and liberal use of scientific terms, is overcompensating. She's writing about something that has happened only five times previously in geologic history — many hundreds of millions of years — she could put aside the dry delivery now and then and use a few superlatives.
One thing I did enjoy was Kolbert's discussion of other human-like species, such as Neanderthals, and what happened to them. With the Neanderthals and many other now extinct species she discusses, you have to read between the lines. Kolbert moves from place to place around the world, in space and time, discussing what is happening to certain species now and what happened to others in the past, without hammering on the obvious: They were all driven to extinction, from mastodons to dodos to Neanderthals to the hundreds of amphibian species that have vanished from Earth just in the last few decades, by human beings. It's not that we're trying to do it, but we are doing it, by being so numerous and so ambitious — by being, in evolutionary terms, so hugely successful. Kolbert guides you toward this conclusion without shouting about it, and in the end, she is persuasive.
Will Doolittle is projects editor at The Post-Star. He may be reached at will@poststar.com and followed on his blog, I think not, and on Twitter at
@trafficstatic.