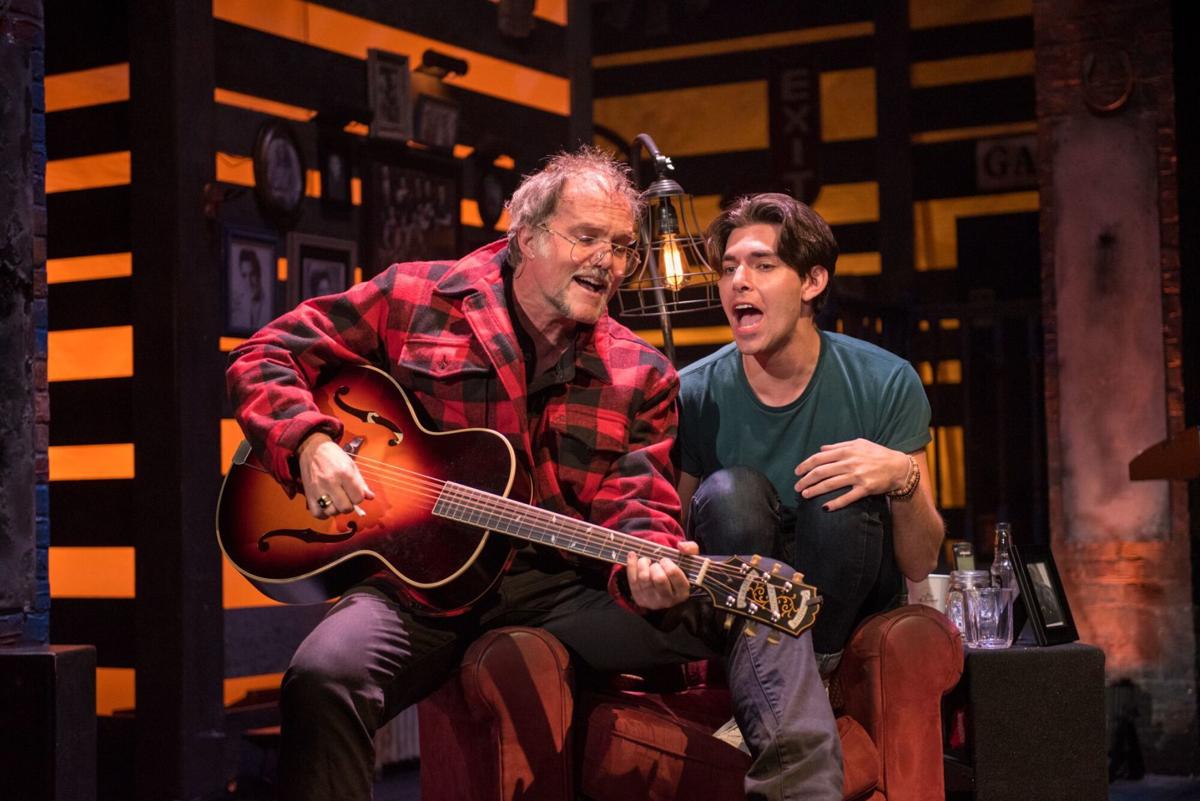 On Saturday, "Beau," the last Adirondack Theatre Festival show of the summer season opened at the Charles R. Wood Theater in Glens Falls.
It's one of those stories that made me immediately want to call my Mom, even though she's no longer here. It brought me back to the way I would pick up the phone to call her right after she died, sometimes actually dialing, before I  remembered I couldn't.
Playwright Douglas Lyons, of Broadway fame, shared that when he wrote the story, he was reminded of how life can change in an instant and the people we love can be gone when we least expect it. 
"We found something that I think is pretty universal," he said. "What it is to lose someone whether they be a parent, aunt, uncle, grandparent, what is given to us and left behind. It is the legacy of our ancestors … and how we carry that forward."
And in this intimately poignant tale of Ace Baker's journey to Nashville and the sometimes confusing and painful relationships imprinting his path, this musical drama, (really a concert, within a concert, within a play) touches that space most of us keep sacred. The place where special loves and secreted shames are stored and rarely revealed.
"Beau" makes it seem safe and natural to look into these sometimes uncomfortable pieces of our past and say, "yeah it's OK."
"My bully was my first kiss," said Baker, played by Matt Rodin, to the audience. "How awkward?!"
With book and lyrics written by Lyons (Broadway, "Beautiful: The Carole King Musical" ), music by the duo of Lyons & Ethan Pakchar, and the discerning direction of Tony-nominated Michael Wilson, "Beau," is certainly destined for more.
Perhaps best of all, "Beau" reels us in, hooking us into the less than perfect lives through profoundly believable characters that either remind us of our own youthful dalliances or someone we have been longing to see.
"It's really all about love," said Lyons, who is on sabbatical from the Broadway show, 'Beautiful: The Carol King Musical.' "If nothing else, I want people to feel the love." 
"Beau" opens with Ace Baker talking to the ATF audience as if they were a Nashville audience for his band, Ace Baker and Company. And with Rodin's easy smile, and intimate asides, it's easy to believe we are actually in Nashville and he's sharing the story of how he got there.
Set in 2013, with seamless time changes back and forth from the 1970s on, the story takes place in several locations — the hospital; a high school bathroom, lockers, dugout; on stage in Nashville, the car, Baker's mother's home, his grandfather's home and under the stars — with band members playing multiple roles on a masterful weathered wood, multi-level set, designed by Christopher Rhoton.
The muted layers of ceiling dropped amber, red, blue, green lights, designed by Howell Binkley and Siobhan Sleath, create a remembered love warmth.
At times, Rodin so ropes us in, it's hard to know if we are cheering for the band performing at the Wood Theater or Ace Baker's band. And it's this dichotomy of story and place that makes this play even more compelling.
All the players from Baker's Mom, Raven, perfectly played by Ameila Cormack, her boyfriend who Baker dubbed, "Wack Larry," tenderly played by Jeremy Sevelovitz, Baker's adorably quirky and sassy best friend Daphne, played by Marlene Ginader, steamy high school diva Karina, played by Olivia Griffin and Baker's bully and first love, Ferris, believably played by Max Sangerman, not only play other roles, they are the show-stopping band.
But "Beau" could not have been the triumph it was this weekend without Beau, played by Jeb Brown, who has had five Broadway roles, most recently that of Don Kirschner in "Beautiful: The Carole King Musical."
I could see my own grandfather in Brown, who is also one of the musicians and vocalists. The kind of rough, hard drinking guy who has a huge heart under that gritty shell.
And the blending of Wilson's tender and insightful direction with Brown's seasoned performance makes this play worthy of Saturday night's audience accolades. 
In its final moments, there's such a rush of emotion from the solid musical score, charismatic band and heart-tugging story line, it's hard to hold back a few rogue tears, making their way down my cheek. In fact, I had to stop myself from breaking into that full-out ugly cry, reserved for watching films at home.
This is a story that left me thinking about my own awkward and bullied year in seventh grade and the important people of my life who will always have a piece of my heart. 
Kathleen Phalen-Tomaselli covers Washington County government and other county news and events.
Be the first to know
Get local news delivered to your inbox!