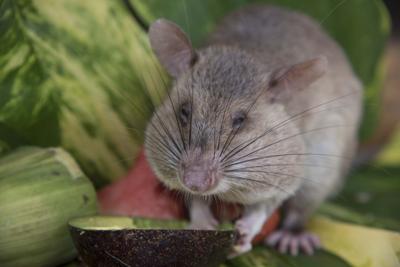 Two years ago, for my wife's birthday, I "adopted" a rat.
Apopo trains rats to detect landmines. They weigh so little that they don't trigger the bomb, but their noses are so sensitive, they can smell the explosives.
One rat can search an area the size of a tennis court in 30 minutes. A person with a metal detector (the traditional way to remove mines) would need up to four days to search the same area.
Every month, we now get an email updating us on how "our" rat is doing. She is in Angola, in southwest Africa. It's the rainy season now, so she only worked for 100 minutes this month, clearing 577 square meters of land.
Since she didn't work much this month, they sent me a picture of her eating an avocado.
Their goal is to clear mines from all of Angola, allowing children to play and farmers to work without losing limbs to long-buried explosives. I look forward to the email every month to see how they're doing.