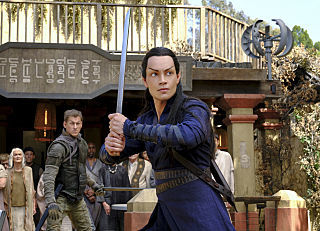 We are three episodes into Star Trek: Picard and there is just no gentle way to put this.
That doesn't mean it's bad. It's more like Firefly, which I loved.
It is a post-modern look at a universe in which everyone is broken, ethics are for losers and hope is lost.
It's not a bad show to watch. It is excellently acted. I love watching Patrick Stewart. I'd watch him act his way out of a paper bag. The other actors are also wonderful. It is a lovely, not-Star-Trek crew.
But it is not Star Trek, which offers us an ideal to aspire to. This is not the sort of show in which people face hard ethical choices, do the right thing, and face the consequences. It's not going to make us look at current issues and grapple with them in a new light.
It's pushed me to binge-watch Star Trek: Voyager. I never watched every episode in chronological order. It's been a good antidote to each week's depressing installment of Picard.
If you insist on Picard being part of the Star Trek world, it's problematic. You can't quite explain what has happened to the mighty Romulan Empire – which developed cloaking technology before anybody else, fought the Federation to a standstill and was terrifyingly advanced with its sleeper cells of spies.
Now Romulans are, apparently, refugees using swords (and frankly, the new makeup makes them look like elves). Why didn't the Romulan refugees go live on other Romulan planets after their home world sun went super nova? Why didn't those Romulans save their people, rather than relying on the Federation?
Don't ask these questions. Think of it as Lord of the Rings, on Firefly.
Be the first to know
Get local news delivered to your inbox!