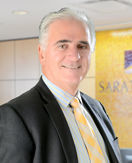 The chief medical officer at Saratoga Hospital had sobering news at the end of my interview with him today.
He wants people to start planning for their 2+ week illness with the virus.
"If you have young children, who is going to take care of them? If you have parents who are relying on you, who is going to take care of them?" he said, stressing that a sick person can't go near people who are well.
"Isolate yourself," he said. "We should ensure people make a plan. If you are sharing a bathroom, how are you going to clean it between uses?"
For those of us with children, this is a scary thought. If Sandy and I are sick, Katie Beth can't take care of herself. She can get dressed, use the toilet and turn on the TV – but she can't cook meals. She can't even reach the food. She can't open the front door, either.
I would have to decide whether to send a potentially infectious child to someone else's house, or risk getting her sick by caring for her here.
And what if we were both hospitalized?
These orders to stay away from everybody else get really tricky at a time like this.
I guess I am just hoping we all stay well.
Concerned about COVID-19?
Sign up now to get the most recent coronavirus headlines and other important local and national news sent to your email inbox daily.