Being the new guy is not as hard as people say it is.
Sure, starting a new job comes with a few unavoidable hardships. Walking aimlessly into a new building is nerve racking. Then comes shaking your new boss's hand for the first time and praying he or she does not notice your excessively sweaty palms. Followed by being introduced to the onslaught of new co-workers whose names you are trying to remember but forget two minutes later.
Luckily on Dec. 4 – my first day as the new sports reporter at The Post-Star – I drove to the correct building and my hands were not that sweaty because it is early December. But I did fail an impromptu name quiz moments after being introduced to much of The Post-Star's staff. Thankfully, a fellow new hire let me borrow her newsroom map, which is basically a staff seating chart.
Since then I've added my name to that newsroom road guide. It reads Ellis L. Williams.
What it does not say is that I graduated from the University of Wisconsin-Eau Claire in May 2016 and have held internships with the Minnesota Vikings, the Minneapolis Star Tribune and Sporting News before arriving at the Post-Star to work the boys basketball beat.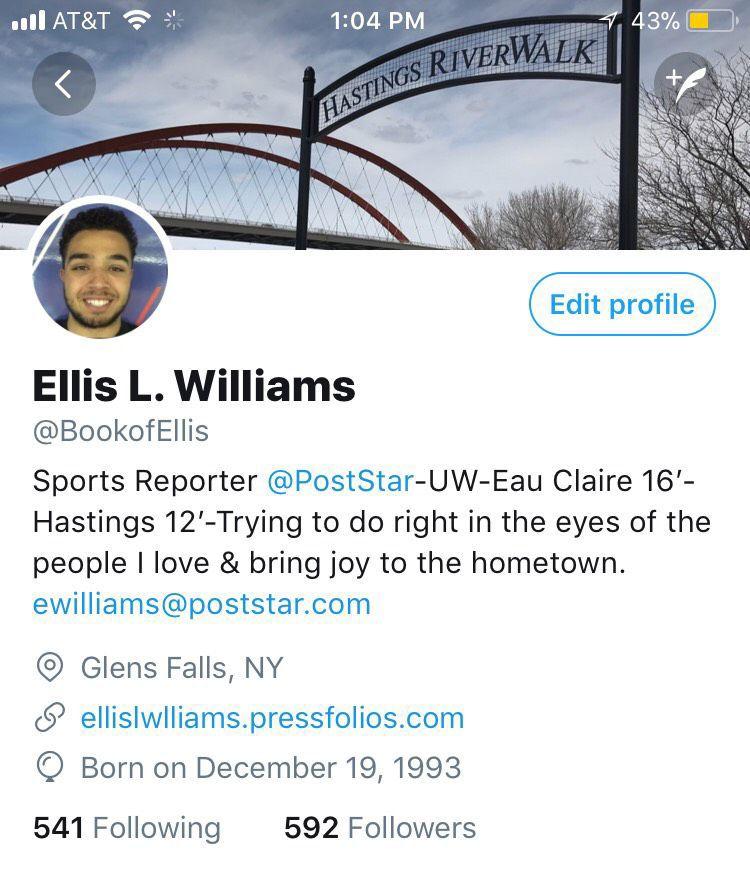 I am excited to cover the Foothills Council, the Adirondack and Wasaren leagues and other surrounding schools. I promise to tell the area's best boys basketball stories and provide worthwhile statistics and analysis just as Will Springstead did before me.
I look forward to providing coverage of programs like Lake George, who returns three all-state players, and the ever growing scoring total of Glens Falls guard Joseph Girard III as he eyes the all-time state scoring record. I'm curious to see what this season will bring teams like Fort Ann, Queensbury, Ticonderoga, Hudson Falls and so many more.
Despite only working in Glens Falls for a week, I can already tell this area is filled with talented athletes and compelling storylines. Last Friday, I witnessed Queensbury rally back from a 40-26 halftime deficit to defeat Schuylerville 65-63. The gym's atmosphere felt like it was a sectional matchup rather than a regular season game in early December.
If that is a precursor of what to expect this season then there is a lot to look forward to. I hope you'll visit this blog throughout the season. At the very least, I'll try to be interesting.
Since you have read this far, I want to leave you with a quick story from last Friday.
Following the Queensbury at Schuylerville game (reminder that this was my first Post-Star assignment), I prepared my notebook with questions for both coaches. After the postgame chaos a two-point victory tends to create settled, I located Schuylerville's coach and asked him about the game.
He seemed confused by some of my questions but I had just told him I was the new guy so I assumed that was why. Once we concluded, I looked at my notebook, thought about the interview and suddenly felt my heart drop.
I had interviewed Queensbury's coach Doug Fraser and mistaken him for Schuylerville coach Matt Steinfort. Embarrassed by my first-time error, I told coach Fraser about my mistake and he agreed to be interviewed again.
Coach Fraser laughed it off and said it would just be between him and I.
I decided to share my brain fart because I'm not afraid to admit a mistake. It makes me a better reporter. More importantly, I'm able to laugh at myself, which keeps things fun.
Therefore, that is the reporter I'll strive to be for readers. One that will have fun reporting boys basketball while being a thorough writer who is not scared to admit a wrong.
Thinking back on my first week, maybe being the new guy is as hard as people say it is.