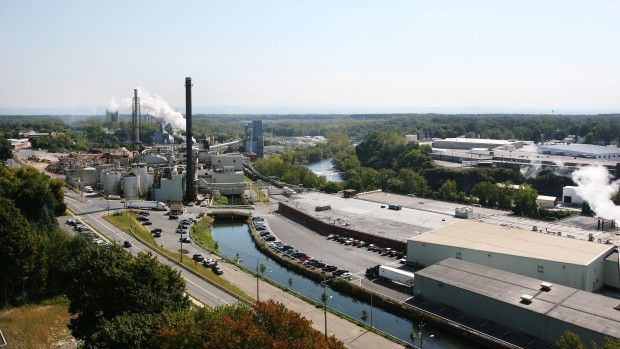 I noticed some folks' comments wondering why we are writing about a spill at Finch Paper on Oct. 9 when it happened on Sept. 27.
The state Department of Environmental Conservation and Finch Paper are not obligated to report these incidents to the newspaper.
I found out about it because I checked the DEC's spill database, which is available to the public online. You can find it here: dec.ny.gov/chemical/8437.html. 
I then followed up with the DEC's press office and Finch Paper, because what's available online is only a snapshot of what happened.
The DEC is investigating a broken pipe at Finch Paper that leaked about 2 million gallons of paper waste into the Hudson River late last month.
Unfortunately, I did not check the database as often as I should have these past couple of weeks. We still felt a story was worthwhile, considering about two weeks later, the DEC has not closed its investigation.
The public should check this spill database out, though, because it shows just how many small and large amounts of wastewater, automobile oil and even manure spills, occur across the state.
Another thing to mention (based on reading comments) is that wastewater discharges happen all the time, but they're typically around a rain event.
They are also usually partially treated sewage discharges, the result of combined sewer overflows — that is storm water and partially treated sewage combined in one system, and heavy rain events can cause the liquid to overflow into a body of water.
These are permitted under certain circumstances, like heavy rain storms. Finch's release into the Hudson was not permitted, but it's not clear yet if the DEC will fine it or issue it a violation for the pipe break.
Overflows might shock and disturb some people, but they are usually not as obvious looking as one might imagine. You're not seeing poop floating down the river. Well, you might be if it's an untreated discharge and something majorly wrong is happening. But in most cases, it's all pretty watery looking.
You can also make yourself better informed about sewage overflows by signing up for NY-Alert, a state emergency notification system, to find out when they occur in your area. That can be done at alert.ny.gov. 
Be the first to know
Get local news delivered to your inbox!