I went camping in the Adirondacks for the first time on my "staycation" last week, and boy did I pick a day — Wednesday, the day it poured.
It was a short, one-night adventure.
My brother, Seth, came up to visit, and I was excited to book one of the waterfront spots on Indian Lake so last minute. I originally thought I had booked it on Lewey Lake, but apparently the state's Lewey Lake Campground also has a few spots on Indian Lake across the street.
So that was surprise one.
Surprise two was pulling up to the campground to check in, and the attendant warning us about a "problem bear" in the area.
That being said, Seth and I are from northwest Connecticut where we can't walk outside our house without an industrial-sized can of bear spray. They are everywhere.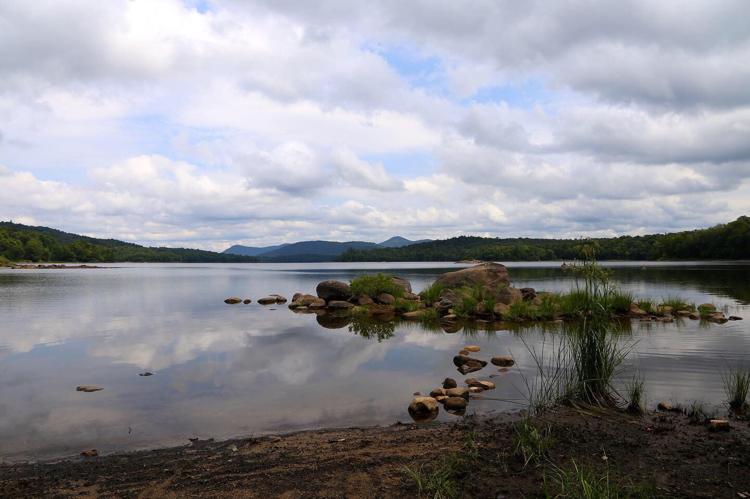 When setting up the tent, the camping site was mostly in a gravely driveway area, and the stakes were hard to nail into the ground.
Poison ivy was everywhere, too, so I got out some winter mittens stashed in my car and pulled some vines.
But, the view was incredible.
I think the forecast had scared away some of our neighbor campers, so we had this small beach-front area to ourselves. There were plenty of ducks, and one loon was diving in the distance. Later in the night it made a howl that made the hair on my arms stand up. Then it followed with a tremolo, a beautiful call that is one of my favorite sounds.
You have free articles remaining.
We got a campfire going, roasted some marshmallows and flipped a couple of veggie burgers.
At one point thunder and lightening was so close, we hopped in my car and watched the movie, Venom, which Seth had downloaded on his phone. 
It felt like cheating, but whatever. 
When it seemed like the thunder had passed, we walked around and saw some people fishing and a few boaters taking a chance on the water.
I loved watching the lake landscape change, the mist rolling in and out of the valley, the light and color fluctuating every minute. 
When we went to bed, it poured outside, and I felt like I was in the bag of Jiffy Pop popcorn I had just shook over the campfire a few hours earlier. It was a rough night of sleeping, but I was hoping to see the sunrise over the water since we were facing east.
But 4 a.m. came and the rain was still there. Then 5:30 a.m. came, and the clouds were still thick. No sunrise, but a family of ducks were on the shore. As a bird fan, it made my morning.
I think I'll give it a go again, and hope for drier skies.