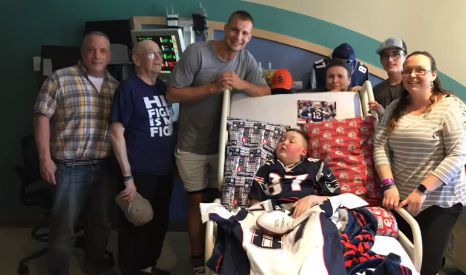 The 11-year-old Whitehall boy who is battling brain cancer got a visit from one of his idols Monday as he continues to get treatment.
John "The Captain" Hoague-Rivette, a longtime New England Patriots fan, got a visit from recently retired New England Patriots star Rob Gronkowski at Albany Medical Center.
"Today was wonderful!," his mother, Carrie, wrote on Facebook. "John Francis was able to meet Rob Gronkowski, his father, brother Gordie, and two friends. This was made possible by Make-a-Wish. John was over the moon to be in the presence of his favorite New England Patriots player."
Hoague-Rivette, the son of a police officer, was named an honorary captain by the Washington County Sheriff's Office last month, the day before he underwent surgery to remove a brain tumor.
The honor student and stellar athlete is continuing to get radiation and chemotherapy treatment, but is still getting plenty of love and support from the community and well-wishers.
He also got a visit from the 109th Airlift Wing of the New York Air National Guard even stopped by his hospital room, and made him an honorary major.
John will remain hospitalized indefinitely as his treatment continues.
Be the first to know
Get local news delivered to your inbox!