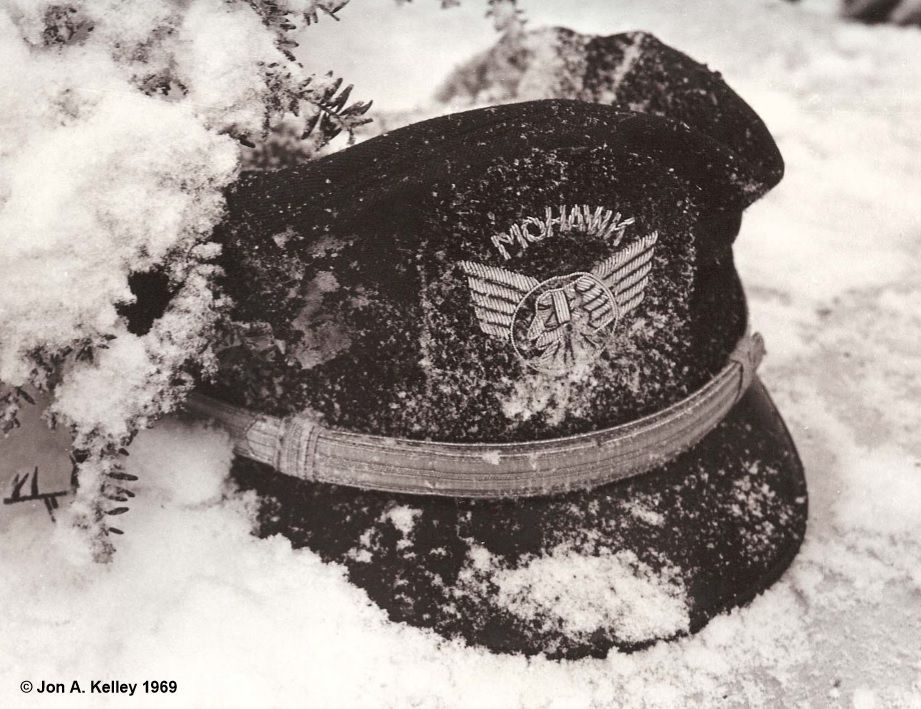 One of them was former Associated Press Jon 'Jack" Kelley, who sent me a copy of the picture he took that ran in papers across the country. He emailed the following about the day after the crash:
"The site was horrific! The smell of jet fuel filled the air.  Burnt bodies, beyond recognition, were still in their plane seats.  A light snow covered the top of the mountain. Needless to say, most of my pictures were of the wreckage – bent propellers and an intact tail assembly that loomed above everything.
"However, the attached picture of "Pilot's Hat on Pilots Knob" best tells the story. It ran in hundreds of newspapers around the world.  One AP photographer called it the best example of telling the story of a deadly scene without showing any bodies.
"I have been asked many times if I "staged the picture by placing it under the tree limb." The answer is, "No!" I found the hat where it was photographed. Probably the only peaceful thing at the site."
Former South Glens Falls resident Susan Neely reached out with information about how a local Explorers troop came to bring the stone marker to the crash site. She said it was done in honor of South Glens Falls resident Frederich Titterington, who was among the 14 people who died.
"We put it up there on the one-year anniversary," she said. "We went up there twice. The first time we couldn't find the site and we brought it back down. We went back up a week later."
Neely, who now lives in Dayton, Ohio, recalled that such a well-worn path had been made up the east side of the mountain that the students could cart the heavy stone
I also heard from several who told of relatives who were State Police or local emergency services volunteers who helped out at or near the crash scene.
Others talked about how national news media came to town for days to report on the tragedy, reminiscent of the days after the Ethan Allen tourboat capsizing on Lake George in 2005.
Don Lehman covers police and court matters and Warren County government. He can be reached at 518-742-3224 or dlehman@poststar.com
Be the first to know
Get local news delivered to your inbox!