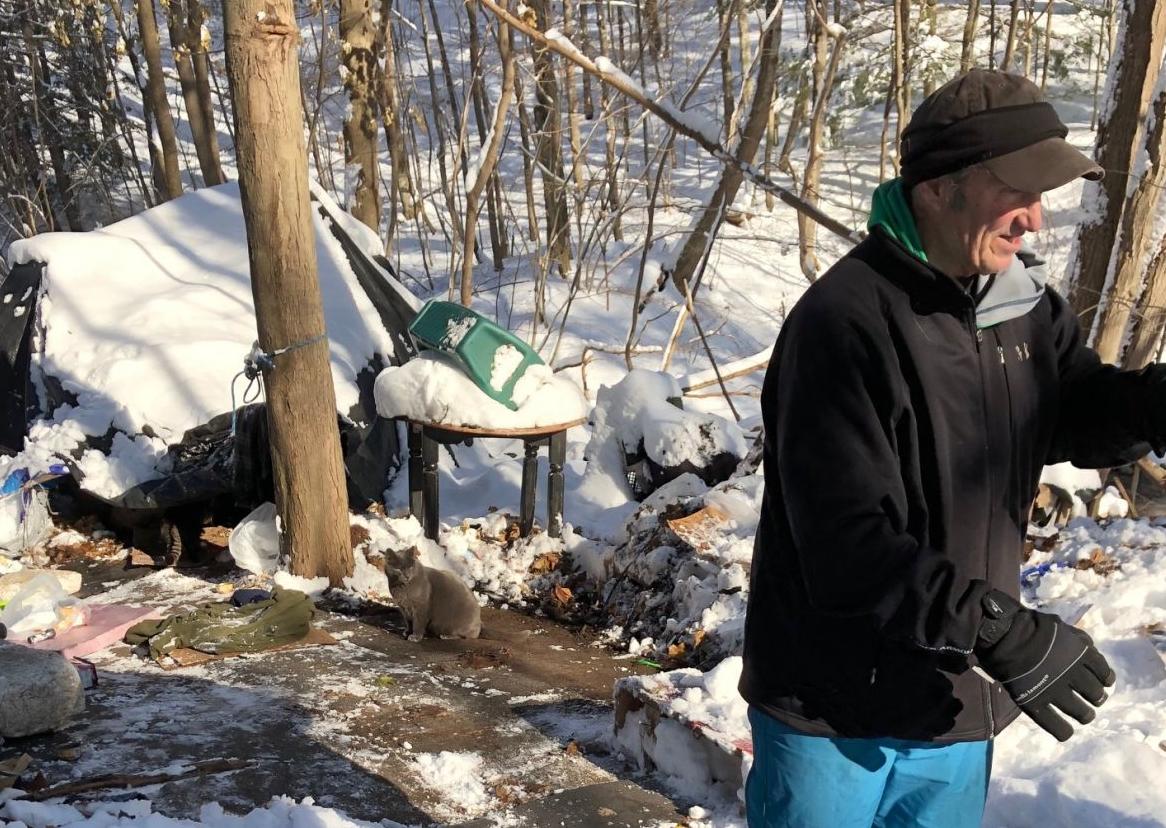 It wouldn't seem that an early December snowstorm would be good news for a man who lives in a tarp shelter in the woods of upstate New York.
Burdo has lived in a wooded are of Queensbury for more than 30 years, and in all that time has gotten a pretty good feel for Mother Nature's whims.
He believes that an early season snowstorm that hits harder in areas to the south of us than it does locally is a good harbinger for the season. It shows a weather pattern that should keep storms away from us, he predicted.
Either way, he said he is ready for whatever winter will throw at him.
"Winter's really not that bad," he said. "We used to get those two weeks of 20-below (zero) but thankfully we don't seem to get that anymore."
You have free articles remaining.
This from a guy who lives with no heat other than that generated by his cats and those little handwarmer packets you can buy.
He has told me many times before that he prefers being out in the woods in winter than warmer months. There is more quiet and less drama and fewer animals out to bother his cats. The dangerous thunderstorms of the summer are no longer an issue.
A troublesome right shoulder has felt much better. He swears that sleeping with it above his head helped increase blood flow to the joint and allowed it to repair itself.
He told me a heartwarming story from the winter of 2002. He needed emergency surgery for a stomach issue, which required seven days in Glens Falls Hospital. When employees of a Queensbury eatery he frequented found out, they went to his encampment and fed his cats until he could return.
We talked sports and current events for a few minutes. He's excited for the local high school basketball season, and reminisced about his high school days playing in the late 1960s against local stars like Bob Stedman and George McGowan.
Burdo lost a cat recently to feline immunodeficiency virus, so he's down to 10. His favorite feline, 10-year-old Papi, named for former Red Sox slugger David "Big Papi" Ortiz, is still plugging along, looking fat and happy on Tuesday as she groomed herself.
As our conversations go, I asked him if he needed anything, and he of course said he didn't. Our readers have helped him quite a bit over the years with veterinary bills for his cats at Glens Falls Animal Hospital, so anyone who wants to help the feisty 70-year-old veteran can send a donation to the vet practice at 66 Glenwood Avenue, Queensbury, 12804.
Don Lehman covers police and court matters, Warren County government and the outdoors. He can be reached at 518-742-3224 or dlehman@poststar.com