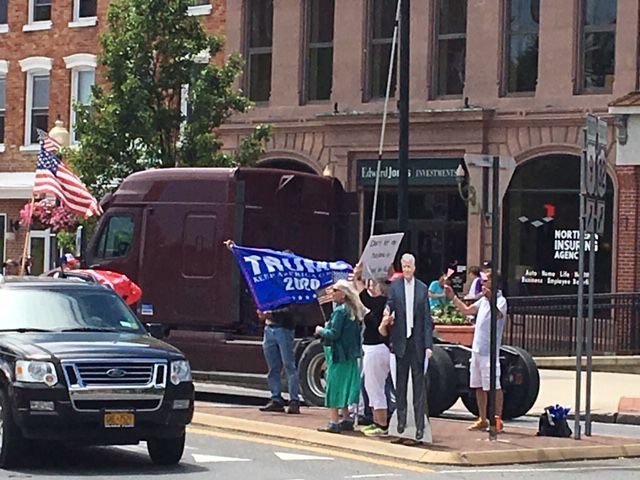 I've always found it strange that the city of Glens Falls allowed demonstrators to gather and protest on or near the traffic circle in downtown Glens Falls.
There are few worse places around here to have a bunch of people yelling, waving signs and impeding traffic, as a place where plenty of cars are lined up being driven by people who have no idea what to do in a traffic circle.
Free speech is obviously a constitutional protection. But nowhere in the constitution does it say you have the right to impede others, hurt businesses or scare people, as has been happening with these tit-for-tat political rallies that have plagued downtown Glens Falls for months.
I have a friend who works at a downtown business who told me the other day how the rallies days have all but shut down his business for hours when they occur.
And more concerning, he also told me about witnessing one rally attendee tucking a handgun into his pants when getting out of his car and grabbing signs to walk over. I won't say which side of the political fence the gun owner's signs indicated he was on, there is no need to inflame the situation. Maybe he legally owned that handgun, but I'm not sure why he would think he would need it at a "peaceful" protest.
Though when you have people publicly threatening to bring guns, even unloaded ones, to a politically charged, emotional event, maybe he was the smart one of the bunch. Lord knows what some of the knuckleheads on both sides are capable of. 
Personally, I've never really understood what people feel like they accomplish at repeated demonstrations like this. Is anyone's vote swayed by this stuff? Should I vote for Candidate A because people with signs and bullhorns support him? Shouldn't we all research the issues, learn about the candidates and make our own decisions?
My sentiment has also been that if you waste my time by making me sit in traffic longer or otherwise bother me, I'm generally less interested in supporting your cause.
So it seems to be common sense at this point that the city of Glens Falls should establish a place outside of Centennial Circle for demonstrators to gather. It's not an unheard of restriction. You can't gather in a Northway median, or a Route 9 turn lane to do this sort of thing, Centennial Circle should be no different.
Don Lehman covers police and court matters and Warren County government. He can be reached at 518-742-3224 or dlehman@poststar.com
Be the first to know
Get local news delivered to your inbox!