Monument tells long, fascinating story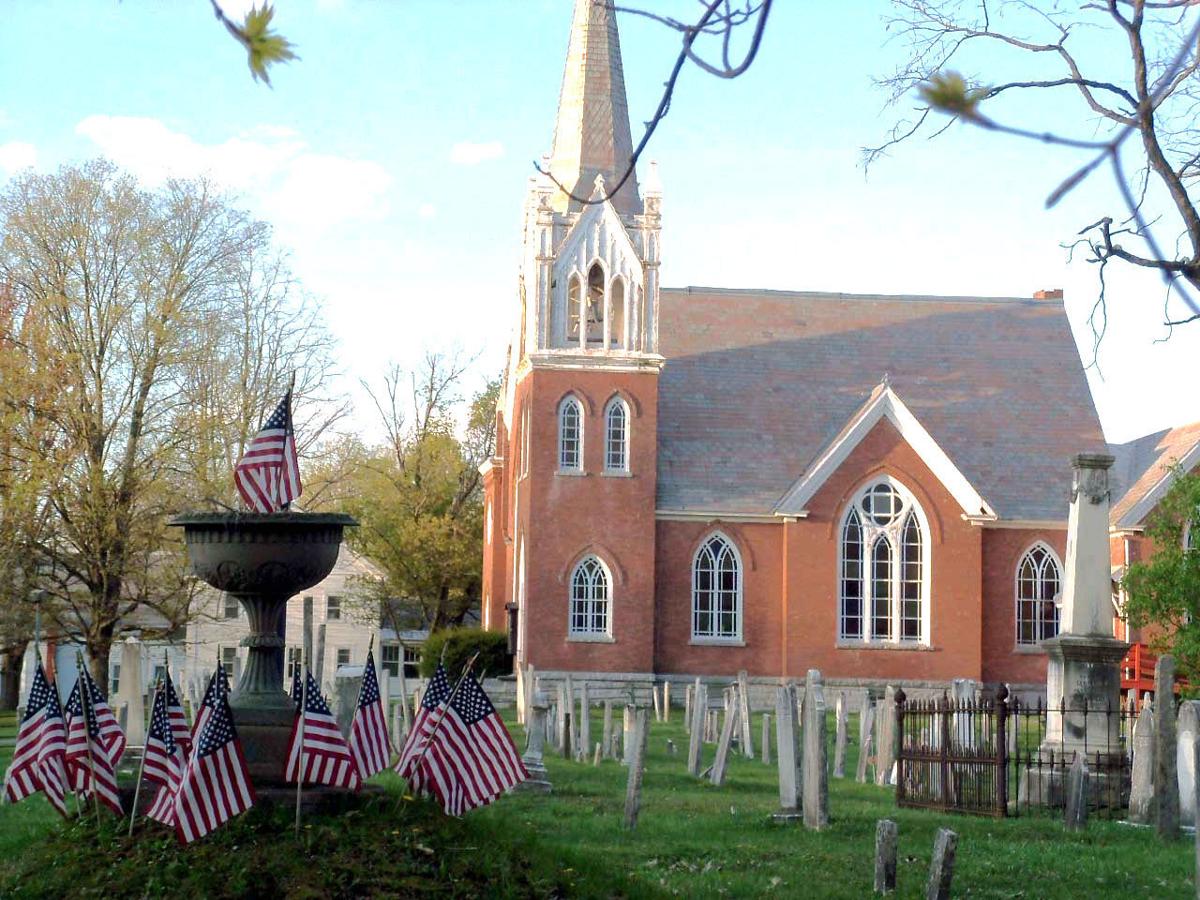 When the new monument at the First Baptist Church in Hartford is unveiled Friday, it promises to be dense with text.
But the story it tells is a fascinating one, so here is the text, as provided by Jeff Faggart of the North Carolina-based Baptist Preservation History Society.
The history of the First Baptist Church of Hartford is a chronology of faithfulness, and its influence was commensurate with that of the new nation. Shortly after the War for Independence, this area of Upstate New York witnessed an influx of new settlers. Families carved farms from the wilderness, and saints propagated the faith by planting churches.
Baptists had gathered a church in the town of Westfield by 1787. Services were held not far from this spot in a log barn, and converts were baptized in the nearby brook. Upon the division of the town of Westfield in 1788, the Baptist Church took the name of the new town, Hartford. In 1798, Governor Dewitt Clinton gifted the church with land upon which to erect a new meetinghouse, and in 1805 a log building was raised. The property was also used as a burial ground for the Baptist Society.
Steady growth among the Baptists soon necessitated larger accommodations, and an additional lot was acquired for that purpose. In 1813, the third house of worship was erected; an impressive structure measuring 51' by 55' with galleries on three sides. Seven hundred people could be seated comfortably therein, and it was often filled. The historic old meetinghouse stood for almost eighty years, until destroyed by fire on May 04, 1890. The present meetinghouse was dedicated on January 22, 1891.
The names of Atwood, Barrel, Brayton, Brown, Bump, Carr, Covell, Cummings, Downs, Ingals, Ingalsbe, Mattison, Pickett, Pierce, Scott, Walling and Whitford are noted by church records as early members. Many sons and daughters of the Baptist Church in Hartford served the Lord in this community, while some were sent to labour in fields at home and abroad.
Jonathan Wade, converted under the ministry of Pastor Amasa Brown, was baptized into the membership of this church, August 4, 1816. He was the first student to enter and graduate from the Hamilton Literary and Theological Institute (Colgate University) in Hamilton, New York. Wade expressed his desire to preach the gospel in Burma.
He and his wife, Deborah Lapham, were appointed missionaries. In 1823, they sailed to Burma, where for nearly fifty years they prosecuted their pioneer work. In spite of dangers, privations, sickness and the absence of friendship, they rejoiced to see much fruit from the ministry.
G. W. Hervey, in The Story of Baptist Missions, details Wade's faithfulness to his calling, as well as his great contribution to mankind:
"The literary labours of Dr. Wade have been of the greatest importance. It was by him that the Karen dialects, both Sgau and Pwo, were reduced to writing. His Karen Thesaurus, a work in five volumes, is a monument to his patient study and knowledge of the language. To the revision of this great work, Dr. Wade gave his last days in this world. In several different stations and in diverse departments of labour; in Rangoon, Maulmain, Maubee, Matah, Tavoy and other places, he toiled with perseverance in his Master's service until he was called home to heaven."
Noah Barrell, native son of Hartford and Pastor of the Baptist Church in Cambray, was highly esteemed for his defence of Baptist principles. He pastored a number of churches in New York and Ohio before finishing his course in Lake Geneva, Wisconsin. Barrell's Records of Marriages remains a popular source for genealogical research.
The French-Canadian, John Baudin, was converted here late in the eighteenth century and returned to Canada, where he planted a Baptist church in St. Armand, Quebec. History reveals that he suffered for his faith.
Born April 21, 1754, in Bristol, Massachusetts, Amasa Brown was the son of James and Mary Anthony Brown and a sixth — generation descendant of John Browne, Commissioner to the Colonies and Assistant to Governor Bradford of Plymouth Colony. Few details of his younger days were recorded, but he is known to have lived in Swansea, Massachusetts. It was in Swansea that a Baptist congregation from Ilston, Wales, and Baptists in the Plymouth colony formed the First Baptist Church in Massachusetts. Among the constituent members of that church was James Brown, lateral ancestor of Amasa. The Brown family was afterwards very prominent among the Baptists.
Subsequently, Brown moved to Vermont, where he joined the Ira Baptist Church, February 17, 1786. There, he made known his calling to preach the gospel, was licensed as a minister and given opportunities to exercise his gifts. Succeeding Elder Thomas Skeels, Brown became the second pastor of the church in Ira and continued in that office for three years. Elder Brown commenced preaching in Hartford in 1788 and was a good soldier of Jesus Christ in this Church for thirty-three years.
Brown's ministry in Hartford and the surrounding area was greatly blessed by God. He often traveled as an itinerant – preaching, administering the ordinances and planting churches. His sphere of influence was extensive and was manifest in home, church, association and community. He baptized eight hundred eighty-two converts and organized churches in West Hebron – 1792, North Hebron – 1793, Great Bend – 1793, South Hartford (Adamsville) – 1795, Granville – 1796, North Granville – 1799, Welch Hollow – 1810, and Cambray (Gouverneur) – 1811.
Jonathan Wade, Barna Allen, John H. Barker, Noah Barrell and John Baudin were called to preach during the ministry of Elder Brown. The faithful saints in Hartford assisted him in building the kingdom of God and they rejoiced together in sowing and reaping. It can be said of Elder Brown that his praise is in the gospel throughout all the churches.
Amasa Brown served his country in the War for American Independence and the War of 1812. His name is recorded in the Patriot Index of the Daughters of the American Revolution. The History of the Shaftsbury Baptist Association provides an interesting anecdote concerning his fidelity to God and country:
Elder Brown was a Patriot. For when his regiment was called out in 1814, to march to Plattsburgh, the order coming on the Sabbath – as Chaplain he went into his desk in the morning with his epaulettes on, and preached a very patriotic discourse to incite his neighbours and brethren to fidelity, who had been summoned to the defence of their country against the invading foe – and then at the close of the service marched on with his regiment in the afternoon, evincing that his love of country was true-hearted. . . .
His memory is cherished among the people of the town of Hartford and the regions about it, for the excellent traits of his character as a man – a Christian – and a minister of Jesus Christ. If he was not the most talented of preachers, he was a very useful one.
Elder Amasa Brown died January 21, 1830, and is buried here among the people to whom he ministered.
I have fought a good fight, I have finished my course, I have kept the faith:
Henceforth there is laid up for me a crown of righteousness, which the Lord, the righteous judge, shall give me at that day: and not to me only, but unto all them also that love his appearing. – II Timothy 4:7-8
Monument Dedicated by The Baptist History Preservation Society – May 05, 2017
You can read Bill Toscano's blog at poststar.com/blogs or his updates on Twitter, @billtoscano_ps.