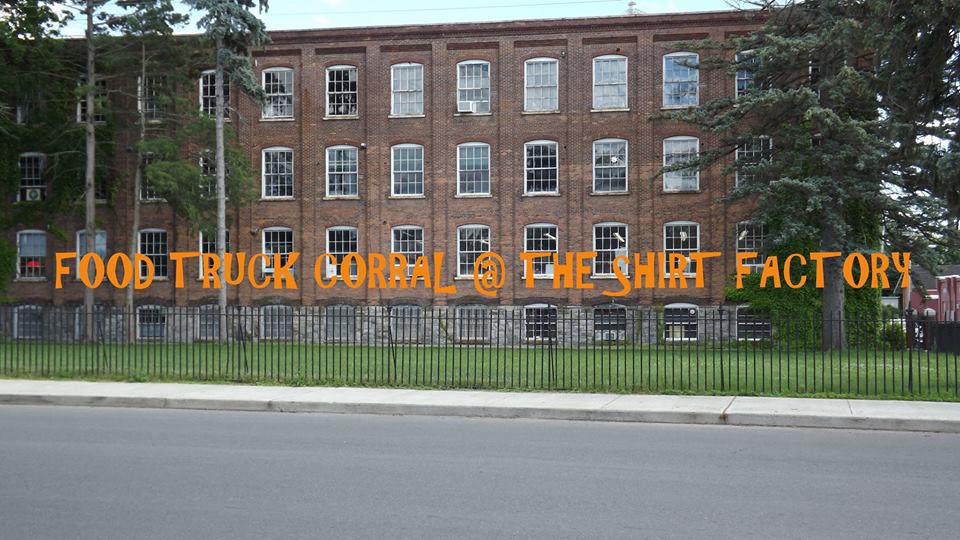 Those of you who were at the first Food Truck Corral at the Shirt Factory know it was successful, but crowded. The second one, from 5 p.m. to 8 p.m. Thursday, promises to have a lot more trucks and vendors. Word is the pizza truck will be open at about 4 p.m.
Here is a list of vendors expected to attend:
Wood Shack Pizza wood fired pizzas (Has to leave at 6:15 p.m.)
Adirondack Concessions, fried clams, sausage peppers & onions, sea dogs (beer battered cod on a roll) hand cut fries
Vital Eats falafel, artisan fries, veggie burgers (vegan)
Dickinson's Delights with crepes and baked goods
Plaid Pancake, Belgian Waffels with fruit, ice cream and/or syrups
NE Lightning 16U softball, cotton candy and sno-cones
Hops, Chops & Roll from Adirondack Pub & Brewery quesadillas, chipotle BBQ chicken wings, Asian Pork Tacos, Pub fish taco
Creative Caterers with burgers, dogs, macaroni and cheese, taco salad, quesadillas, kids meals
Given to fry with specialty fries, specialty nachos, deep fried Oreos
The Yard Bar with craft beverages : Ommegang Witte, Goose Island IPA, Brooklyn Summer, New Belgium Fat Tire, Browns Cherry Raz, Angry Orchard Cider as well as twisted tea, light beers and wine
Yum Yumz with italian ices
Cooley's Ice Cream with novelty ice creams
Made In Upstate NY with Cooper's Cave Ale Company soda, kernal kravings popcorn, Wilson's beef jerky and meat sticks
Vital Eats booth serving samples of sauces, ketchups and so-cheezy, vegan products
Palatable Pepper Products booth serving samples of jellies, sauces and seasonings
Adirondack Dreamcatcher Farm with pony rides and petting zoo
Reptile Adventure with lizards, snakes and turtles
Casey Beal Designs with face painting
Chase Sports Complex with free bounce houses
One of the more popular trucks, Swamp Dogs, has a prior commitment, but will be at the next two corrals, which are Aug. 17 and Aug. 31.
You can read Bill Toscano's blog at poststar.com/blogs or his updates on Twitter, @billtoscano_ps.