BLOG: Rounding up school news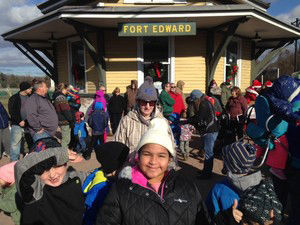 Here's another look at school news from around the region:
Granville concert
Granville students will present their annual winter concert at 6:30 p.m. Dec. 18 in the Junior-Senior High School auditorium.
The concert will include performances from the elementary band directed by Sean Boyd, and the Granville jazz ensemble, junior band, and senior band, directed by Miss Crystal Everdyke.
Attendees are invited for refreshments in the cafeteria after the concert.
Band members honored
Eight members of the Granville band participated in the Northeast Instrumental Music Festival held last month in Lake Placid.
This year, representing Granville were:
Ben Bishop – percussion, Jennifer DeKalb - alto saxophone, Elayna Fabian - tenor saxophone, Alexis Leaman – trumpet, Rachel Pietryka – trumpet, Chris Rathbun - baritone saxophone, Kelsey Rupe – trombone, and Ryan Schwenger - clarinet
The students were selected through New York State School Music Association festival schools and teacher recommendations. They joined approximately 85 students from 10 school districts for the four-day festival. The students auditioned for their seating placement to perform in the Northeast All-Star Concert Band.
SGHF musicians, singers chosen
Seven South Glens Falls High School students were accepted into the 2017 state music educators' association Zone 7 Area All-State Wind Ensemble, Orchestra and Mixed Chorus and performed last month at Saratoga Springs High School. They were: Etta Cileli, wind ensemble; Cody Wilson, orchestra; Bryan Currie, mixed choir; Garrett Eggleston, mixed choir; Allison Hillebrandt, mixed choir; Anthony Migliori, mixed choir; and Brandon Sarti, mixed choir.
Argyle Good Citizen announced
Argyle Central School District has announced that senior Derek Sherrange has been selected as the Daughters of the American Revolution Good Citizen. Sherrange was nominated by the faculty at Argyle Central and voted by his fellow class members as best exemplifying the characteristics of dependability, service, leadership and patriotism. He is the son of James and Betty Sherrange.
He is a member of the National Honor Society and the state Science Honor Society. He is very active in school and has participated in a variety of extracurricular activities including: drama club, student council, band, world food prize, soccer, tennis, class officer and was a HOBY leadership representative.
Cambridge concert dates
The Cambridge Central School District is pleased to announce the schedule of upcoming holiday and winter choral and band concert performances. All performances are held in the auditorium. The K-2 concert is at 6 p.m., Thursday, the junior/senior high concert is 7 p.m. Monday; Grades 3 and 4 choral concert is at 6 p.m., Dec. 13; and the Grades 5 and 6 combined classroom choral and band concert is at 6 p.m., Dec. 18.
Latin Club talent show
The Cambridge Central School District's Latin Club hosted its seventh annual school-wide talent show last month. There were 20 acts.
Grade 7-9 Best Musician, Madeline Flint; Grade 7-9, Best Solo Dance Performer, Taryn Olson; Best Group Performance, The Hubbard Hall Irish Dancers comprised of Chellee Daniels, Ayla Dansin, Leah Jaffe and Jessie McCauley; Best Original Composition, Shelby Sharp; Best Musical Performance, Leila Bruske; and Best Solo Vocalist and 2017 Talent Show Grand Champion, Cameron Gorman.
You can read Bill Toscano's blog at poststar.com/blogs or his updates on Twitter, @billtoscano_ps.