BLOG: All worked up for Wall of Fame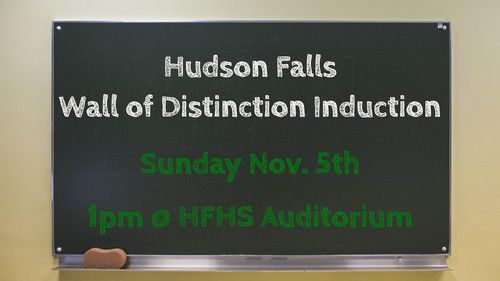 One of my favorite school-related events of the year is scheduled for Sunday at Hudson Falls High School.
As a former National Honor Society adviser, I think it is really appropriate that the school inducts its Sandy Hill chapter of National Honor Society members at 1 p.m., then follows that at 2:15 p.m. with the unveiling of the Wall of Fame.
Many schools have athletic halls of fame, but not many honor graduates who have gone on to success in life in general. Hudson Falls does. "The Wall of Distinction's intent is to establish a tradition that honors highly successful graduates who have gone on to distinguished careers in various fields or who have become role models in the community," the district said in a press release.
This year's class includes three people I have worked closely with. They are all the kind of people the school wants to promote.
Paul Bromley, a 1974 graduate, owns a local sawmill and is very active on the Kingsbury Town Board. His work helped the town save a great deal of money on the new Town Hall.
Jeff Murphy, Class of 1978, is the county sheriff and has always been excellent to work with.
Judy Moffitt, his classmate, has been at the center of the local addiction support network and is also a terrific teacher.
The other three are Dr. Melissa Durkee, '91, Associate Chief of Pharmacy for Clinical Services for VA Health Care, Norma Scivetti Myers, '68, retired French/Spanish teacher and Janet Van Deusen Merrill, '84, (posthumously), athletic director.
You can read Bill Toscano's blog at poststar.com/blogs or his updates on Twitter, @billtoscano_ps.