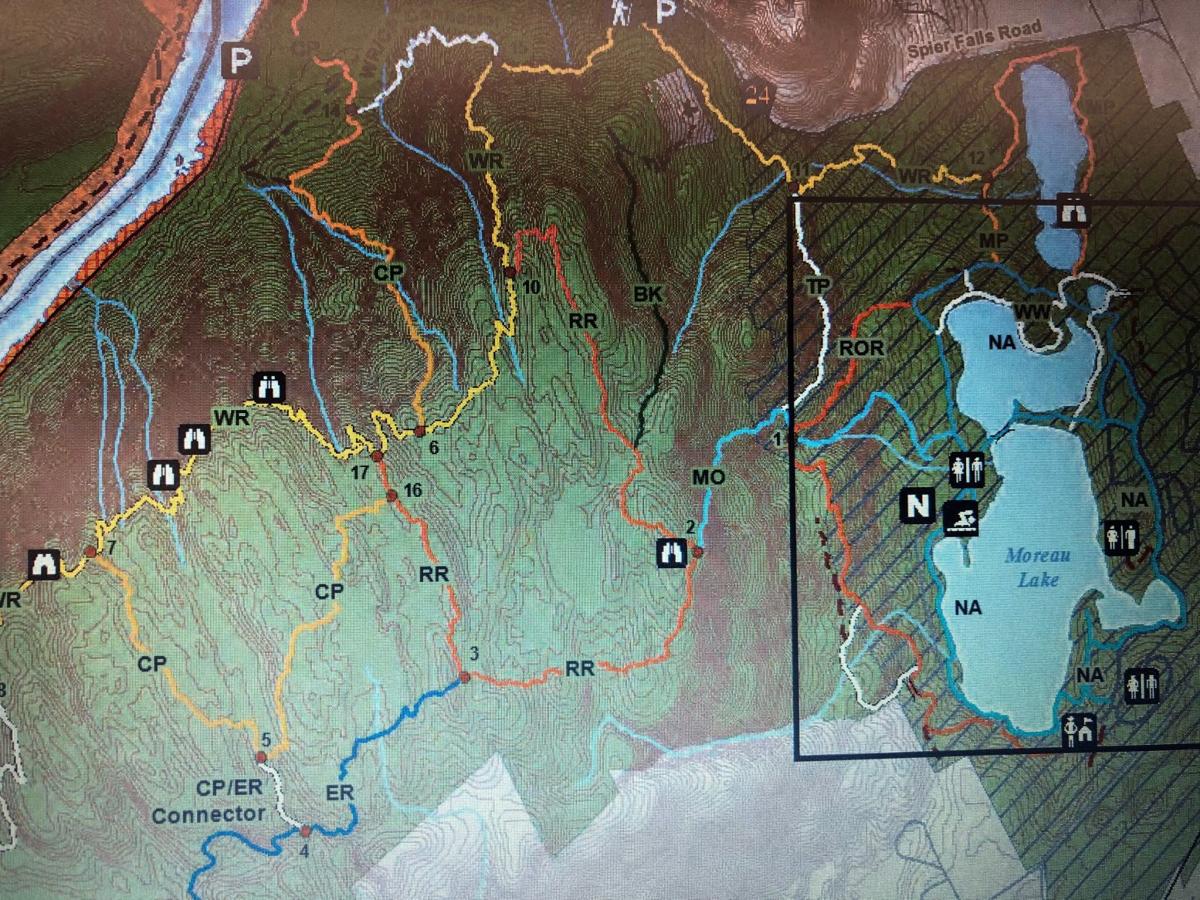 The state Department of Environmental Conservation put out its activity report from the weekend, and one of the hiker rescues that was detailed took place Sunday night in Moreau Lake State Park.
It was a tale of how not to go hiking in mid-October. From the DEC:
Wilderness Rescue: On Oct. 13 at 7:15 p.m., Warren County 911 transferred a call to DEC's Ray Brook Dispatch from a group of lost hikers. Coordinates provided by 911 indicated the group was lost in Moreau Lake State Park. The caller, a 54-year-old woman from Greenfield Center, also stated that she was late taking medications for a chronic condition. New York State Park Police were advised of the lost hikers and dispatched an officer to the scene. The hikers had no map, flashlights, or gear, and made a wrong turn in the dark before calling 911. After directing the hikers to call 911 for a second set of coordinates, voice contact was established at 9:06 p.m. Forest Ranger Joseph Hess located the hikers approximately 0.25 miles from both sets of 911 coordinates. The woman was assessed by Moreau EMS at the Spier Falls trailhead at 11:03 p.m. and released.
Now I can understand getting lost on the trails on the ridge above the lake, because there is quite a network of trails. But not having a map, flashlight or gear in case you become lost is inexcusable, particularly when heading out at a time of year when dusk arrives earlier with each day. Trail maps for Moreau Lake State Park are on the park website. Friends of Moreau Lake State Park's website has maps that can be downloaded to your phone, as does Alltrails.com.
Flashlights are available at virtually every store on the planet.
Below are some of the other local ranger rescues from the weekend.
You have free articles remaining.
Wilderness Rescue: On Oct. 8 at 12:18 p.m., DEC's Ray Brook Dispatch received a request for assistance from a married couple from Cornwall, Vermont, whose Australian Shepherd had become stranded on a ledge after falling off the side of the trail on Pitch Off Mountain. Forest Rangers Benjamin Baldwin, David Russell, and Scott van Laer responded to assist. The rangers arrived on scene at 1 p.m. and headed in to locate the hikers. Once the Rangers met up with the couple, they completed a 10-foot raise in a narrow crevice to rescue the uninjured dog. Rangers escorted the dog and hikers back to the trailhead. All units were cleared of the scene by 5:30 p.m.
Wilderness Rescue: On Oct. 9 at 3:30 p.m., Essex County 911 transferred a call to DEC's Ray Brook Dispatch from a man reporting that his wife had fallen and injured her upper left leg while hiking Blueberry Mountain. Using coordinates attained through 911, Dispatch placed the couple's location on the section of the Blueberry trail that goes over private land. Forest Rangers Scott van Laer, Scott Sabo, and Benjamin Baldwin responded to the Marcy Field trailhead where they were met by the Keene Fire Department and the Keene Valley Fire Department Backcountry Rescue Team. Forest Rangers and volunteers located the hiker and evaluated the injury before placing her in a litter to be carried out. Once back at the trailhead, the 58-year-old woman from Keene was transported by Keene EMS to a local hospital for treatment. All units were cleared from the scene at 5:22 p.m.
Wilderness Rescue: On Oct. 10 at 4:39 p.m., a call came into DEC's Ray Brook Dispatch from a group of hikers on the OK Slip Falls Trail. The caller reported that a 29-year-old female hiker in his group had an ankle injury and was on Northern Frontier Road. The caller requested assistance since the subject was unable to walk. Forest Ranger Arthur Perryman responded and picked up the hiker from Ontario, Canada, with his patrol vehicle and gave her a ride to the main gate where other members of the hiking party were waiting with their vehicle. The hiker refused medical attention and advised she would seek it on her own.
Don Lehman covers police and court matters and Warren County government. He can be reached at 518-742-3224 or dlehman@poststar.com