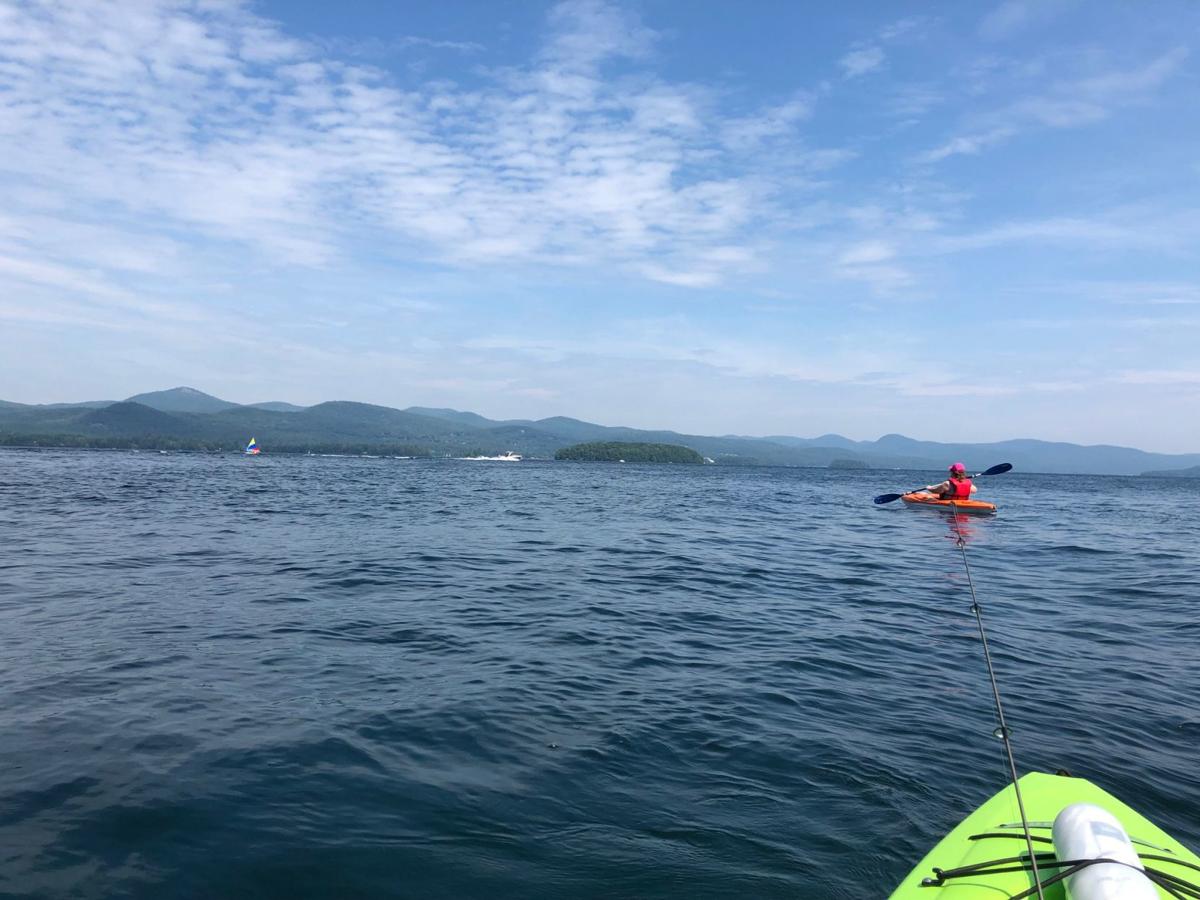 New to the  Lake George area three decades ago, I decided one day to take my newly purchased canoe to Lake George and try my hand at a little bass fishing on the lake's east side near Pilot Knob.
I put in at Pilot Knob Beach and paddled north. The morning started off calmly, but by mid-morning things changed. Boat traffic picked up dramatically, and my little 14-footer started getting bounced around.
It was a cheap, $350 canoe, not the most stable craft around, and I quickly paddled my way back to the protective edge of the bay for fear of getting dunked, staying close to shore as I paddled back.
Lesson learned. Lake George on a nice summer day is a tough place for small boats.
I would love to take my kayak on Lake George more often. It's a beautiful lake. But sadly, there are just some waters that aren't friendly to small, paddle-driven boats during the summer. It's no one's fault per se. Big lakes are naturally more choppy, and throw in heavy boat traffic and you will have trouble for paddlers.
The lake is just too big, too busy and filled with too many inexperienced boaters, both on the powerboat side and the paddling side. And that can be a bad combination, as we see time and time again.
The rare times we go on Lake George, we go off season on calm mornings or evenings, and stay close to shore or in protected bays. (The launch on Route 9N in Hague is a good place to start, paddle through the wetlands and go to Northwest Bay before it gets too busy.)
News reports on the recent kayak injury prompted a lot of discussion online about who was right or who was wrong, and what can be done to make kayakers more visible.
Some suggested flags for kayaks to make them more easily seen, but I'm not sure that would help much. How visible would they be on a busy lake to a distracted boater if they can't see a kayak to begin with? Bright clothing and brightly colored kayaks help. When we bought our kayaks, we chose orange and neon green, colors that are hard to miss, for that reason.
Then there is the whole rental boat quandary. Shockingly, and against common sense, a new state law that will mandate boater safety training for all doesn't include them, when it seems they are the group that needs the training the most.
I heard a saying years ago that it's better to be alive than right.
Yes, a boater should know what is around them, and not hit another boat of any kind or size. But having the right of way isn't going to pay medical bills, or make lacerations or broken bones heal more quickly.
So for now, I will stick to kayaking on some of our smaller, calmer waters around here, places like Glen Lake, Moreau Lake and the Hudson River near Moreau Lake State Park, or even head north to Thirteenth Lake, Lewey Lake, Lake Durant or Lake Harris.
There are literally hundreds of quiet ponds and lakes around the Adirondacks to choose from where we can enjoy peace and quiet, and don't have to worry about our safety.
Be the first to know
Get local news delivered to your inbox!