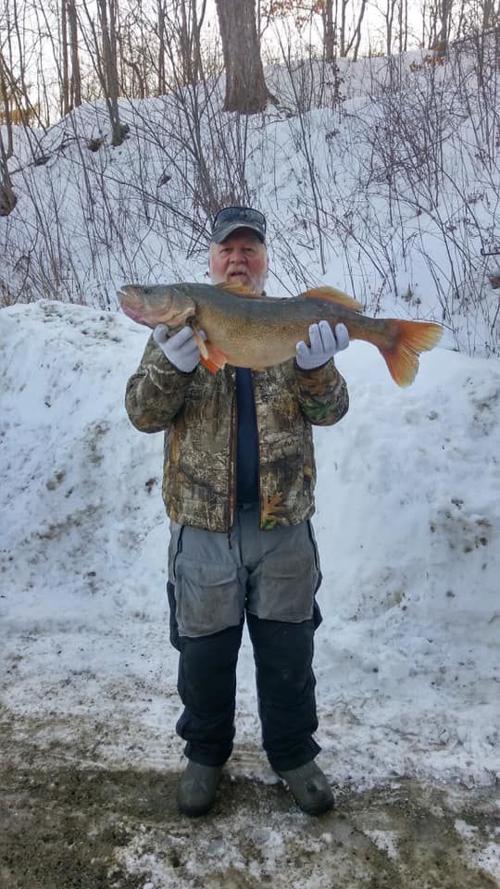 The tireless efforts to help stock young walleye has helped the lake's walleye population bounce back, and the fruit of those labors was on display last weekend on the leaderboard at the Great Benson Fishing Derby in Vermont, just over the state line from Washington County.
A 13-pound walleye landed through the ice of the south end of Champlain by Fair Haven, Vermont, resident Jay Sheldrick Sr. took the derby's walleye prize, and that is a horse of a walleye anywhere. (The New York state record is 18 pounds, 2 ounces, landed in the St. Lawrence River, but the Vermont record is 14 pounds, 8 ounces, caught in Lake Champlain in 2010.)
But almost as interesting was that the second and third place walleyes were just under 10 pounds, and there were several other big 'eyes weighed in as well. Walleyes are tough to catch, and only a handful of local waters (Hudson River, Great Sacandaga Lake, Saratoga Lake among them) are home to the delectable fish.
Those big fish are good signs for the progress of bringing back Champlain's once-renowned walleye fishery.
Don Lehman covers police and court matters, Warren County government and the outdoors. He can be reached at 518-742-3224 or dlehman@poststar.com
Be the first to know
Get local news delivered to your inbox!