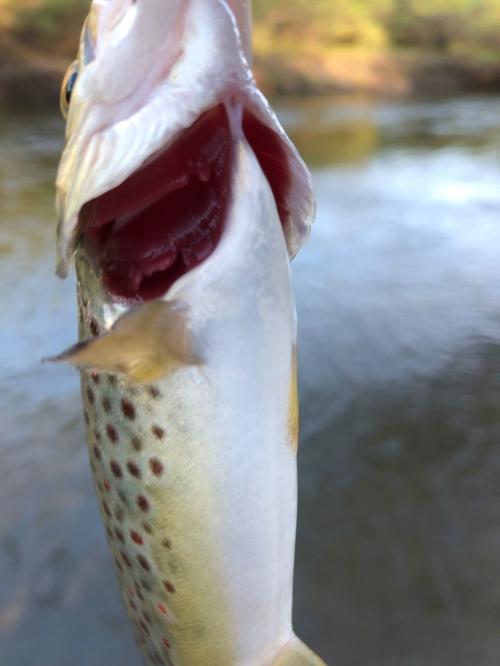 News came out late last week that a zebra mussel infestation at one of the state's main trout hatcheries for the Adirondacks was going to result in many waters getting fewer stocked trout than in past years. (I saw it first on syracuse.com, not sure if they reported it first.)
The invasive mussels at the Rome hatchery are bad news when they wind up in a water, so the state Department of Environmental Conservation is trying to figure out what to do with the trout raised there. They won't be killed, but instead stocked in waters where zebra mussels are present.
That means that our local waters that get state brown trout, such as the Batten Kill, Mettawee River, Schroon River, Kayaderosseras Creek will not get their usual allotments of browns, though the state plans to juggle stocking schedules and practices to try and adjust. The Rome hatchery has historically been a big source for two-year-old browns.
We are lucky to have the Warren County and Essex County hatcheries in our region, which produce trout for waters in these two counties. So those of us who fish these counties will still have plenty to chase. Warren County raises brook and rainbow trout.
I asked the DEC this week whether we can make plans for what waters won't get stocked, or how the trout numbers will be reduced. Below is the response I got. (In short, the answer is no, the DEC isn't releasing numbers yet.)
Personally, I'm not too upset about this. I would much rather catch wild or holdover fish than deal with gullible truck trout. But the stockies ultimately become holdovers and even spawning fish, so overall this will probably have short-term and long-term impacts.
Q: Where exactly have zebra mussels been detected?
A: The presence of Zebra Mussels was confirmed in Delta Lake in January and in the
Rome Hatchery on February 4th. Rome Hatchery relies on water from both Delta Lake
and groundwater from a spring. Zebra mussels were found in hatchery ponds exposed
to lake water. Zebra mussels have not been found in ponds that receive only spring
Q: Why are zebra mussels a problem?
A: The zebra mussel is an invasive species that has damaged infrastructure and
disrupted aquatic food webs in waters where it has been introduced.
Q: What is the risk of stocking trout from Rome Hatchery now that zebra mussels
A: Zebra mussels could be accidentally loaded on stocking trucks with the fish and
introduced to waters where they are not currently present.
Q: How is it possible to accidentally stock a mussel?
A: The juvenile zebra mussels found at the Rome Hatchery are not readily visible to the
naked eye. Zebra mussels at this size can be easily dislodged and transferred unseen
to stocking trucks on fish or nets.
Q: Can't you just treat the water with something to kill zebra mussels when you
A: Treatment options exist, but they are not 100% guaranteed and can also negatively
affect the health of fish being stocked. An abundance of caution is necessary to ensure
zebra mussels are not spread to new waters.
Q: What kinds of trout are raised in the zebra mussel exposed ponds at Rome
A: Brown trout and brook trout.
Q: What will happen to Rome Hatchery trout due to be stocked in spring 2020?
A: To prevent the establishment of new zebra mussel populations, Rome Hatchery
trout raised in ponds or raceways receiving Delta Lake water will only be stocked in
waters already inhabited by zebra mussels.
Q: Does this change to the stocking plan affect waters stocked by hatcheries
A: Yes. Without the trout from Rome, there are not enough brown trout and brook trout
available at other hatcheries to stock "zebra mussel negative" waters at 100% of the
number planned for these species. In 2020, some waters will receive fewer fish while
others may see an increase in stocking. Unfortunately, the situation creates an actual
shortfall in the number of fish available for zebra mussel negative waters. As such,
some waters that usually receive fish may not be stocked.
Q: What is being done to reduce the impact to trout anglers on waters managed
with stocked trout this spring?
A: In "zebra mussel positive" waters statewide, Rome hatchery brown trout and brook
trout will be stocked in place of rainbow trout from other hatcheries. This will free up
rainbow trout from other hatcheries to reduce the trout shortfall in zebra mussel
Q: Compared to last year, what can I expect to find stocked in my favorite
streams and lakes in 2020?
A: In some cases, the trout species normally stocked will be replaced with a different
species. In zebra mussel negative waters, fewer trout will be stocked and some smaller
stockings will be cut due to the shortage of trout from "clean" hatcheries. In zebra
mussel positive waters, some additional trout will be stocked in 2020 only. The 2020
spring trout stocking list will incorporate these changes and will be published on the
Q: How will the task of distributing trout be affected this spring?
A: Fish distribution will be challenging due to the inherent constraints the situation at
Rome will place on the hatchery system. Stocking for any given body of water may
have to be adjusted to accommodate overall state needs, but DEC will strive to make
the timing of these stockings as close to our annual stocking dates as possible.
Q: How did you determine where trout species substitutions will be made?
A: DEC first narrowed down the list to waters where the proposed substitution raised no
conservation concerns then, from the remaining waters, final selections were made to
facilitate the efficient distribution of trout.
Q: What fish will be raised at Rome Hatchery for stocking in 2021?
A: Rome will only raise fish for stocking in zebra mussel positive waters. Rome
production will be reduced to the quota for these positive waters.
Q: What does the future hold for Rome Fish Hatchery after 2021?
A: Rome Fish Hatchery must be decontaminated, redesigned and reconstructed to
achieve the maximum production possible using only spring water. Technical analysis
has begun to inform the best strategy to accomplish these tasks with current
Don Lehman covers police and court matters, Warren County government and the outdoors. He can be reached at 518-742-3224 or dlehman@poststar.com
Be the first to know
Get local news delivered to your inbox!