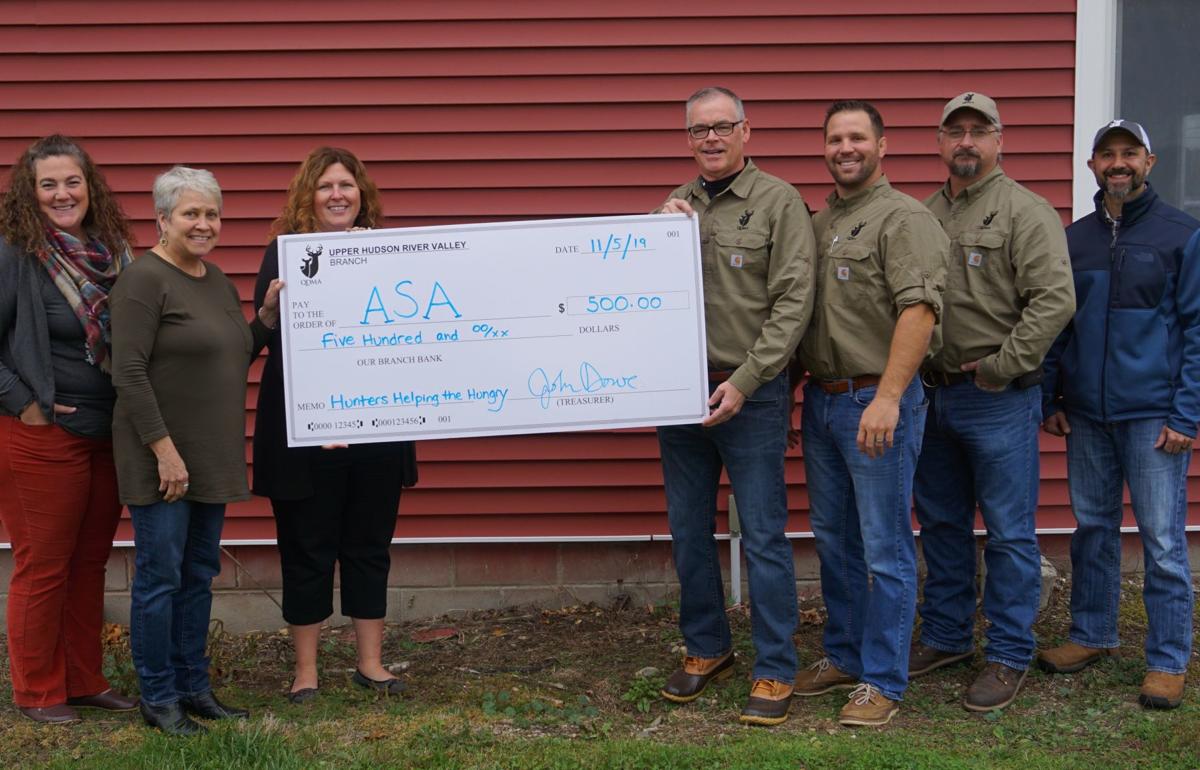 Thanksgiving weekend is a big family hunting weekend, and a local organization is asking that area hunters consider donating any unwanted venison they may take as the big game season winds down.
Upper Hudson River Valley chapter of Quality Deer Management Association (QDMA) is helping to sponsor the "Hunters Helping the Hungry" program operated by the Agricultural Stewardship Association of Greenwich.
The QDMA chapter donated to help ASA expand the program, which takes in deer from hunters and gets them to meat processors who turn it into ready-to-eat venison.
"As a result of their generous donation, ASA will be able to increase the total number of deer we can accept which will allow us to feed so many more people this winter," said Kara Scieszka, ASA's community coordinator. 
ASA said in a news release that the "Hunters Helping the Hungry" program utilizes "an abundant natural resource" to help feed families in local communities. Many of these families depend upon local food banks and pantries to help put food on the table for themselves and their children.
By donating deer, area hunters can help fill the gaps for individuals at risk of hunger while enjoying an activity they love. An average-size deer can help feed up to 200 people.
The process is simple. Hunters harvest deer from an overabundant population. Area meat processors produce high protein venison burger. ASA reimburses the area meat processors and distributes the meat to local food banks and pantries to feed people in need.
With the addition of the local QDMA chapter's support, ASA is able to increase their program goal to a total of 750 to 1,250 pounds of processed venison to be channeled to area food banks and pantries this year, which is equal to 3,000 to 5,000 meals. ASA is still looking for hunters willing to donate deer this season.
Those wishing to participate can:
Contact ASA (kara@agstewardship.org or 518-692-7285) to let them know you'll be participating.
Enjoy a safe and successful hunt
Carefully field-dress, legally-tag and report your deer
Take the whole deer to any venison processor near where you hunt or live
Contact ASA to let them know what processor you selected
Know you helped feed local families in need
Hunters Helping the Hungry is made possible, in part, by a grant from The McCarthy Charities, Inc.
ASA has also helped more than 134 families conserve 22,467 acres of working farms and woodlands in Washington and Rensselaer counties. ASA's mission is to protect our community's working farms and forests, connect people to the land, and promote a vibrant future for agriculture and forestry in the region. For more information about ASA's work, visit www.agstewardship.org.
The UHRV chapter of QDMA was formed in 2005 and covers Rensselaer, Saratoga, Warren and Washington counties.
Its efforts were recognized in 2017 when the chapter won the national Branch of the Year. Since its founding, members have offered nearly a dozen education and outreach events annually, including the creation of numerous QDM Cooperatives which now encompass over 46,000 acres.
They also conduct a Quality Deer Hunter Training program that teaches shooting form, rifle and bow tuning as well as proficiency. UHRV recently rolled out a new hunter initiative which pairs adult and youth hunters with mentors and properties on which to hunt.
Don Lehman covers police and court matters, Warren County government and the outdoors. He can be reached at 518-742-3224 or dlehman@poststar.com
Be the first to know
Get local news delivered to your inbox!