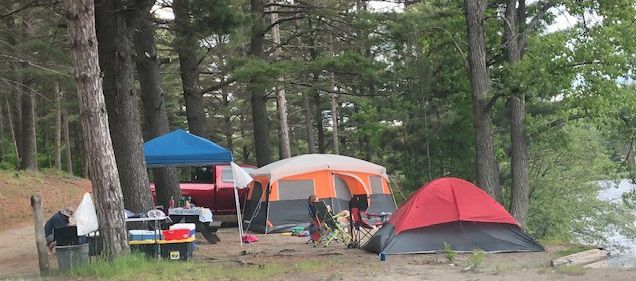 Nothing spoils a camping trip like problematic neighbors at a campsite. A man who repeatedly caused problems at state campgrounds in Lake George last week seemed to have taken the "bad camper" designation to a new level.
The man was arrested twice and evicted from both the Hearthstone Point and Battleground campgrounds in a matter of days late last month, winding up in jail two times as well.
State campgrounds have pretty strict rules about behavior, quiet hours, etc., but some enforce them more than others. Few things other than bad weather can ruin a camping trip quicker than morons at an adjacent site, especially if the sites are close to each other. Those of us who want some quiet time in the woods and on the water are often outnumbered by people who just like to party in the woods, unfortunately.
Details of the Lake George drama are below in the DEC's weekly conservation officers report.
Campground Chaos – Warren County
Between July 20 and 22, ECOs responded to several complaints of an intoxicated subject causing a disturbance and arguing with his girlfriend at the Hearthstone Point State Campsite in Lake George. On July 22, ECOs evicted the man from the campground. On July 25, ECO Marcia Goodrich along with Lts. Rob Higgins and Ben Bramlage responded to a report that he had returned to the campground. They found his girlfriend's campsite vacant but a nearby camper advised the officers that the man had fled as patrol vehicles approached. The subject was located by the officers a short time later hiding in a bathroom stall and was arrested for trespassing and campground violations. He was arraigned at the Lake George Town Court and remanded to the Warren County Jail. On July 27, ECO Matt Krug responded to assist Warren County Sheriff's Deputies with a subject causing a disturbance and damaging property in the Lake George Battleground State Campsite. ECO Krug arrived to find the same subject that had been arrested two days earlier at Hearthstone Point. His girlfriend had moved her campsite to the Battleground Campsite, where the subject went after being released from jail. The man was arrested, charged with Criminal Mischief and campground violations, and again sent to the Warren County Jail to await arraignment.
Be the first to know
Get local news delivered to your inbox!