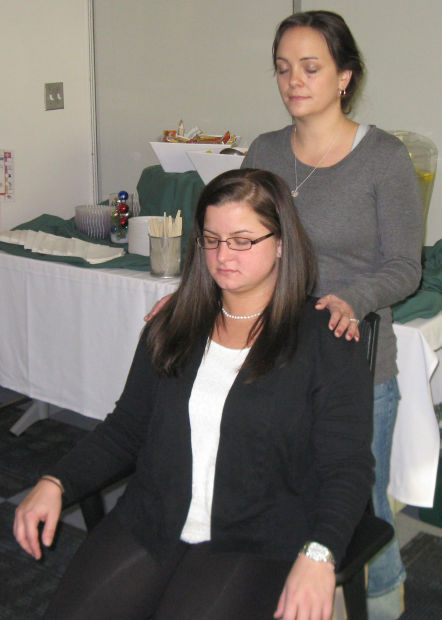 SUNY Adirondack students are taking a little time out to de-stress before hitting the books.
Students, as well as faculty, have been taking advantage of free 10-minute massages all this week courtesy of The Lemon Tree Yoga & Healing Arts Studio.
They have been giving chair massages, face massages, hand treatments, and Reiki and Chakra cleansing.  
Student Judi Durkin of Warrensburg said she has been feeling really stressed with exams coming up and she also coaches basketball.
"We have a big game tonight and I wanted to be relaxed for it," she said.
"Completely relaxed" is how Braydin Smith, also of Warrensburg, described her chair massage.
"I'd come back tomorrow," she said.
This is the fourth year for Relaxation Week, which is sponsored by the College Activity Board of SUNY.
The college puts it on twice a year – once in the fall and once in the spring, right before exams.
Massage therapist Mindy Ryzuk said the college is doing it a little earlier this year. Finals don't begin until the week after next – so maybe the students will be extra relaxed.  The massages really seem to make a difference, according to Ryzuk.