LAKE GEORGE -- Instead of chicken patties and mystery meat, Lake George students are getting pesto chicken paninis and pulled pork sandwiches this year.
The district has stepped up its efforts to provide meals that comply with the strict federal standards put in place last year under the Healthy, Hunger-Free Kids Act but are still appetizing to students. It hired Larry Young, a graduate of the Culinary Institute of America, as full-time chef/food service director.
The rules decreased portion sizes and the amount of sodium and saturated fats in meals while increasing the amount of whole grains being served. Students are also required to take a fruit or vegetable on their meal tray.
But much of the food was ending up in the garbage, say school officials.
"We saw a lot of waste," said Superintendent Patrick Dee.
The number of students buying lunch dropped significantly as well. Young's mission is to turn that around this year.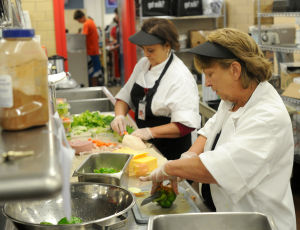 "The whole goal of this year is to get kids excited but with an emphasis on healthy foods," he said.
Young said the junior and senior high school students are willing to try new things such as a Thai-style sweet potato soup. He has updated a former menu item — the Warrior bowl — which was a mix of popcorn chicken, mashed potatoes, corn, gravy and cheese. He substituted homemade mashed potatoes and gravy instead of making it from a box, switched from canned to frozen corn and cut back on the cheese sauce.
In addition, every day he has a soup available. Deli and salad bars are also laid out.
Young said the key is treating students more like customers and not trying to force food down their throats, simply because it complies with the regulations. Rather, he wants to provide the best quality food as possible while still meeting the guidelines.
Students seem receptive to the new lunches as the numbers are climbing, according to Young.
Junior Shelby Wells, 17, said the portions seem bigger than last year.
Sophomore Rachael Rehm, 16, raved about the pesto chicken panini in particular.
"It was really good — better than Panera," she said.
Other districts are tweaking their menus. At Glens Falls, the grilled cheese sandwiches are bigger and students can now have crackers with their soup, thanks to a slight easing of the federal rules
More flexibility has been granted on meat and bread portion sizes, as long as the meal stays within the limits for calories and saturated fat, according to Glens Falls Food Service Director Anne Sheehan
Meals for kindergarten through fifth-grade students must be between 550 and 650 calories. Sixth-grade through eighth-grade meals should be between 600 and 700 calories. Meals for high schoolers should be between 750 and 850 calories.
The average calories per week have to fall within the guidelines, according to Sheehan, so one meal could be over the caloric limit if it is balanced out by another one that is under it.
Following the requirements last year was a challenge, Sheehan said. Initially, students didn't take to some of the more noticeable changes on portion sizes and offerings.
"They felt like we were starving them," she said.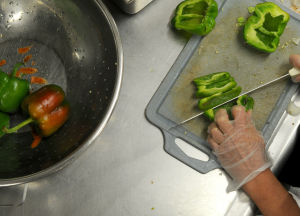 Some students still feel that way.
"The portions are wicked small," said 17-year-old senior Ciara Vannier. "I expect to be full by the time I leave the lunch room. For $1.75, I can go to Burger King."
Students also threw out food at the beginning of last year, but Sheehan said that was less of a problem after the first few months.
Hadley-Luzerne Superintendent Paul Berry said students were used to having bigger portions. Like Sheehan, he believes the situation improved as the year went on.
"By November or December, that became a non issue because either students would bring some (lunch) from home or got used to it," he said.
At Glens Falls, Sheehan said she encourages students to take as many fruits and vegetables as they want if they are still hungry. She tries to give the students options for fruits and vegetables, including whole and sliced apples and oranges, canned fruit, tomatoes, cucumbers and lettuce.
Students admitted there are good things about the lunches. Seventeen-year-old senior Connor Toich likes the chicken nuggets and popcorn chicken, and at least the school tries to change it up so they are not serving the same exact meals every week, he said.
"If it's the same, they'll add something new to it," he said.
Sixteen-year-old junior Logan Ostrander said he wants rice in his chicken wrap, but can't have it because of the limit on calories. But, he said, he can supplement with other items.
"We do have the salad bar, chips, cookies and pretzels," he said.
Sheehan said she makes changes continually to find things students will eat. The food service program is a business that has to make money.
"You've got to have the customers to make it work," she said.
There were fewer customers last year. Sheehan estimated that about 65 percent of high schoolers bought lunch regularly during the 2011-2012 and that dropped to about 51 percent in 2012-2013. The number has rebounded to about 54 percent this year, which Sheehan attributed to the recent changes.
Meals have to comply with the federal requirements for the district to receive the full federal reimbursement. Glens Falls receives a reimbursement of $3.05 on every paid lunch. The district charges $1.75 per lunch.
The lunch program has lost money during the last two years, according to Pat Diggin, the school's outside auditor. Fortunately, the lunch fund has a surplus of about $100,000 built up over several years.
A few school districts in the Capital Region, including Niskayuna and Voorheesville, have dropped out of the federal lunch program, so they don't have to comply with the requirements. They will not get the aid, however.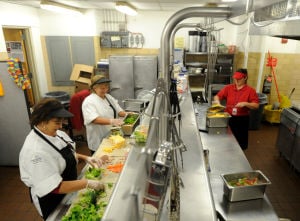 Diggin said Glens Falls wouldn't be able to opt out of the program because the district receives more than a half-million dollars in federal lunch aid.
Most districts need the money to subsidize the program, according to Sheehan. The district's weekly grocery bill is between $5,000 and $7,000, she said.
"You can't make lunch for $1.75 and it's hard to make it for $3," she said.
More requirements will be phased in over the next several years. School lunch programs will have to use whole grains exclusively starting in the next school year. Now they have to use whole grains in at least half the meals. Sodium limits will be lowered during the next decade.
Sheehan believes students will adapt.
"In five years, this is not going to be an issue because kids will get used to it," she said.