GLENS FALLS -- Congress must consider the impact policy has on the crowds on the sidewalks, not just the Washington insiders, said Democratic congressional candidate Aaron Woolf.
"We're always making policy based on the things we can measure," Woolf said, speaking to the Greater Glens Falls Democracy for America chapter on Wednesday. "What we don't measure is how those policies can have effects that we can't easily measure."
Many schools, for example, no longer have full kitchens, and heat up pre-packaged frozen meals instead of cooking from scratch, he said.
Although that method saves money, he said, it is not as nutritious and cuts out the local farmers that could supply schools with food.
"We know that (nutritious food) can have extremely beneficial outcomes, not just in health but in education," he said.
Woolf, a filmmaker from Elizabethtown, is one of two candidates seeking the Democratic nomination in the 21st Congressional District, where U.S. Rep. Bill Owens, D-Plattsburgh, is not seeking re-election.
The other candidate is Stephen Burke, a town councilman in Macomb, in St. Lawrence County.
About 70 people attended the forum in the community room at Crandall Public Library, including Green Party congressional candidate Matt Funiciello.
During the question and answer time, Funiciello asked Woolf about his position on the minimum wage.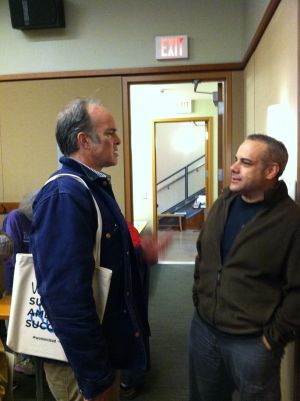 "I agree with the president's plan to raise the minimum wage incrementally," Woolf said.
Woolf said he thinks pay for women and men should be equivalent.
"Women still get 77 cents for every $1 that a man in the work force is paid," he said. "I won't accept that for my daughter."
Woolf said the concept of a federal infrastructure bank, in which the public and private sectors pool funding, makes sense, and that the best way to cut federal spending is to cut subsidies for oil companies.
He said immigration policy should be more flexible for farm workers and students.
Woolf, until recently, split his time between Elizabethtown and the New York City area, and he only recently registered to vote in Elizabethtown.
Responding to a question about some people perceiving him to be an "outsider," Woolf said he has been coming to Elizabethtown since he was 4, and it was always the place he came back to between film projects on various continents.
He said when his father died, he brought the cremated ashes back to the property in Elizabethtown, and when the house burned down, he camped in a tent and rebuilt it.
Earlier in his talk, he referred to Elizabethtown as "E-town," a shortened version commonly used in Essex County.
"This is a place where I learned to change a tire and change my oil and dance a waltz — important life skills," he said.
Woolf said he wants to bring "a culture of cooperation" to Washington.
"When it's 20 degrees below out, I don't think you stand around and argue about who's going to light the furnace," he said.
Three candidates are seeking the Republican nomination: Matt Doheny, an investment fund manager from Watertown; Joseph Gilbert, a retired U.S. Army major and tea party leader from St. Lawrence County; and Elise Stefanik, a businesswoman and former White House policy adviser from Willsboro.
New Yorkers for Constitutional Freedom, a statewide conservative Christian political action committee, endorsed Stefanik on Thursday.
Funiciello, a bread company owner and political activist from Glens Falls; and Donald Hassig, a political activist from St. Lawrence.