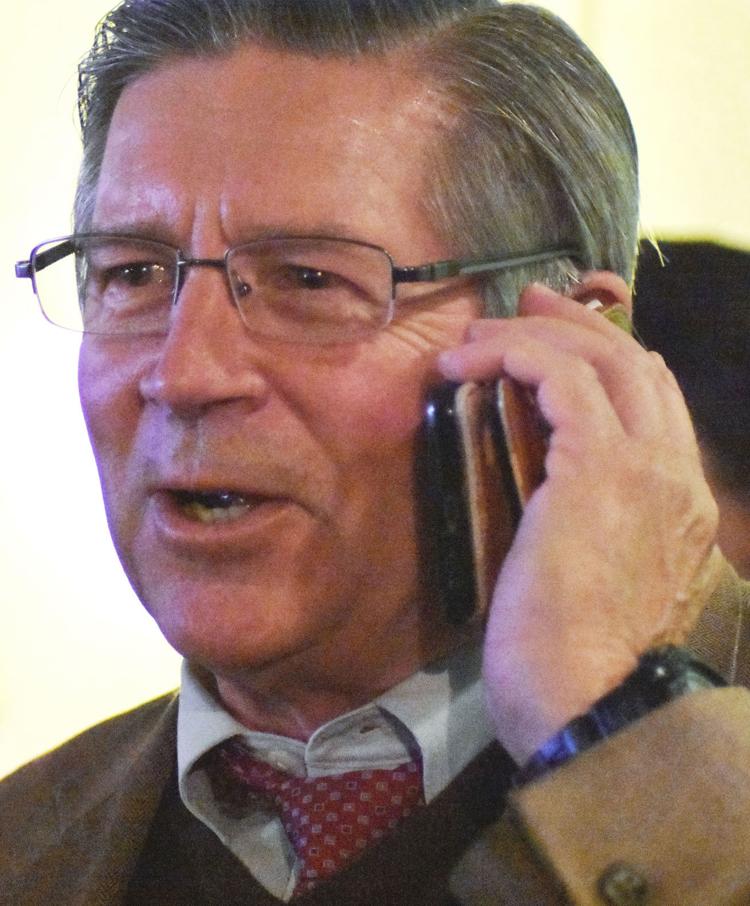 QUEENSBURY — Democratic Supervisor John Strough won a hard-fought third term Tuesday despite focused Republican opposition.
"My grandfather told me nice will always win over nasty, and I guess that old maxim holds true," Strough said as Democrats celebrated a three-seat sweep on the Town Board.
The new majority will help him "get a lot of wonderful things done" in the next term, he said.
Strough had 4,049 votes in unofficial results, while Republican challenger Rachel Seeber had 2,927 votes.
Turnout was tremendous, poll workers said.
"As busy as a state election. Not as busy as a presidential, but close," said poll worker Dodi Robinson.
Other off-year elections in Queensbury have brought out about 5,000 voters. This time, 6,976 voters cast ballots in the supervisor race.
Strough had been criticized for failing to make public a scathing state audit. When Town Board members asked about it, he said the town had passed the audit, which was not true. However, he had resolved the concerns in the audit by the time the board asked about it. When he was criticized, he said he wished he had given the audit to the Town Board and noted that Republicans had searched his tenure to find only one mistake.
Voters apparently forgave him.
"He had a hiccup with that problem. I don't see it as major," said voter Paul L. Pontiff.
He and others turned against Seeber because of the town GOP's politicking. One man even said it was the first time in his life that he had voted for a Democrat.
Many voters said Tuesday they were disturbed by the way in which Republican leaders ran the Queensbury election campaign. Town Republican Chairman Doug Irish, a member of the Town Board, refused to resign after he moved to North Carolina.
But the bigger problem occurred when the Republican Committee tried to oust Republican Tony Metivier, the Ward 1 councilman who had broken with his party on one vote last year. The committee threw its support behind newcomer Hal Bain.
Bain quickly signaled to the committee that he wanted to drop out — but it was after the date by which they could replace him on the ballot. So Irish pitched a scheme, via email, in which committee members would try to get Bain elected and then allow him to resign after he won. The Republicans would then be able to replace him with someone they preferred, rather than Metivier.
Democrats uncovered this plan when they filed a Freedom of Information request for Irish's town email account, discovering the emails in which he and a leading member of the town's official law firm had discussed it. After it was revealed, Irish resigned from the Town Board, the attorney resigned his leadership position as vice chairman of the Queensbury Republican Committee, and Bain announced he was dropping out of the Ward 1 race.
But voters blamed all the Republicans.
"I think it casts a very poor light on the Republican Party in Queensbury," said voter Wayne Woodcock, who voted for Strough. "John has always been very helpful and has always been available."
"I thought it was very corrupt," said voter Martha Butler, who also chose Strough.
Others said they were personally impressed when Seeber came to their doors.
"She seemed more for the working person. And listens. Not just someone who is a political figure," said voter Melissa Van Order, who voted for Seeber.
One voter had a hard time choosing between the two, after Seeber came to his house.
"She explained her spiel, and I liked that," said voter Marty Lacatena. "Though I have to say, in all my years as a voter, Strough put out a phenomenal pamphlet."
In the end, he chose Seeber.
"For a little bit of change," he said.