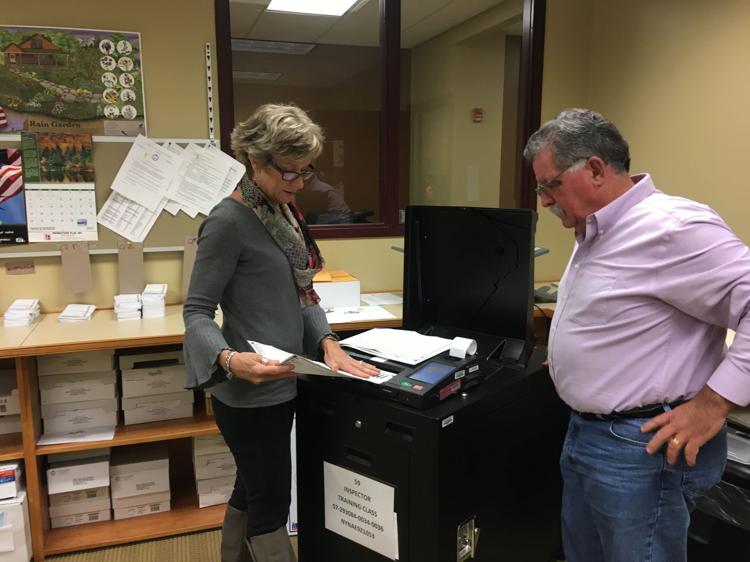 Decision Day is here.
On Tuesday, voters will choose the new mayor of Glens Falls. They will decide who will be supervisor of Queensbury and six towns in Washington County, pick new town and city boards, and weigh in on three state ballot initiatives.
Inevitably, somewhere in the region, an election will come down to a handful of votes. In off-year elections like this one, without the governor or president on the ballot, far fewer people come out to vote.
It was in 2013, another off-year election, that Queensbury Ward 4 candidate Jennifer Switzer lost by four votes to Bill VanNess. Now he has moved on to become the Republican election commissioner for Warren County, and she's running again — this time against previous Ward 4 councilman Tim Brewer, who was appointed back to the seat when VanNess became an election commissioner.
In Moreau, where voters are also choosing a new supervisor, the controversial current supervisor won by just 33 votes in 2015. Supervisor Gardner Congdon is not running for re-election, however, so Town Board member Todd Kusnierz is facing off against newcomer Mike Linehan.
Glens Falls
In Glens Falls, the term limits rule that is forcing a new mayoral election has created a musical chairs situation.
The Glens Falls Common Council incumbents, both Democrats and Republicans, have joined forces as a bipartisan unity ticket. They are Democratic First Ward Councilman Jim Campinell, Democratic Second Ward Councilman Bill Collins, Republican Fourth Ward Councilman Scott Endieveri and Republican Fifth Ward Councilman Jim Clark.
Collins and Clark are running unopposed.
Campinell is being challenged by political newcomer Phillip Underwood, who has the Republican and Independence Party lines. Endieveri is facing two challengers — Green Party nominee Ben Lapham and Democrat Steve Baratta.
Also part of the unity ticket is Republican Jane Reid. The current Third Ward councilor is running against Green Party candidate Robin Barkenhagen for councilor-at-large to replace Dan Hall, who is the Democratic candidate for mayor.
Hall is facing off against Green Party candidate Rich Cirino and Republican candidate Tim Guy in a civil election campaign that has focused on abandoned properties, infrastructure, taxes and spending and downtown redevelopment.
With Reid running for the councilor-at-large position, her Third Ward seat has been thrown open. Running for that seat are Republican Rachel Murray and Democrat Diana Palmer.
Mayor Jack Diamond, who is barred by term limits from running for re-election, is looking to continue his political career at the Warren County Board of Supervisors. He is a Democrat, running to represent Ward 1 on the county board. He's running against Nancy Underwood, the wife of Phillip Underwood, who is running for the Common Council from the First Ward.
The other contested race is in Ward 4 and features Democrat Bill Loeb versus Republican Karen Judd. Loeb seeks to return to the board after being defeated by James Brock in 2013. Judd, the current deputy city attorney, is making her first bid for elected office.
Queensbury
In Queensbury, the races have been marked by politicking from the Republican leadership that has been criticized as unethical. In an attempt to beat Republican Tony Metivier, the Ward 1 councilman who had broken with his party on one vote last year, the Queensbury Republican Committee threw its support behind newcomer Hal Bain.
Bain quickly signaled to the committee that he wanted to drop out — but it was after the date by which they could replace him on the ballot. So town Republican Committee Chairman Doug Irish pitched a scheme, via email, in which committee members would try to get Bain elected, then allow him to resign after he won. The Republicans would then be able to replace him with someone they preferred, rather than Metivier.
Democrats uncovered this plan when they filed a Freedom of Information request for Irish's town email account, in which he and a leading member of the town's official law firm had discussed it. After it was revealed, Irish (who had moved to North Carolina) resigned from the Town Board, the attorney resigned his leadership position as vice chairman of the Queensbury Republican Committee, and Bain announced he was dropping out of the Ward 1 race.
Two Republicans running for office were aware of some aspects of the scheme. Ward 2 Councilman Brian Clements was copied on all of the emails and acknowledged that he had read them, although he had not responded. Republican candidate for supervisor Rachel Seeber said she knew Bain was thinking about whether to run for office, but said she did not know about Irish's plan for the situation. Irish has also worked closely with her on her campaign, and some criticized her for not criticizing him.
A third Republican, Ward 4 Councilman Tim Brewer, has tried to keep some distance from the others, saying he votes his own way and does not stick with the party at all times.
While Democrats are hoping the situation gives them votes, they have been hurt by the fact that Democratic Supervisor John Strough did not give the Town Board a scathing audit from the state. He told the board that the town had passed the audit, which was not true, although board members asked about it after he had made changes to resolve the state's concerns.
Strough is running for his third term as supervisor. The Democrats are also running challengers for two of the wards: Catherine Atherden for Ward 2 and Jennifer Switzer for Ward 4.
Warren County towns
There are also competitive supervisor races in Warren County towns. Lake George Town Board member Dan Hurley is challenging incumbent Republican Dennis Dickinson, who is seeking his fourth consecutive two-year term.
In Thurman, all five Town Board seats, including the supervisor, are up for election because of mid-term resignations. Two of the seats are for partial terms.
Incumbent Supervisor Cynthia Hyde, who lost last year's election but was appointed to the position in February after Evelyn Wood's resignation in January, is running on the Democratic line for a full two-year term. Her Republican challenger is Susan Shepler, who was appointed to the board in February 2016 but lost a bid that November for election.
In Johnsburg, two candidates are vying to replace Supervisor Ronald Vanselow — Republican Peter Olesheski, who is currently on the board, and Democrat Andrea Hogan.
Washington County towns
Washington County has six competitive town supervisor races. Two seats are currently controlled by Democrats, in Cambridge and Dresden.
In Cambridge, Democratic Supervisor Cassie Fedler is running for re-election against former Supervisor Beaver Watkins, who is on the Conservative line. In Dresden, Democratic Supervisor George Gang is running for re-election against Republican Paul Ferguson.
Another two seats are controlled by Republicans, in Easton and White Creek. In Easton, Republican Supervisor Dan Shaw is running for re-election against Democrat Phil Nicholas; while in White Creek, Republican Supervisor Robert Shay is running for re-election against newcomer James Griffith, who has created his own Unity Party.
The last two Washington County seats are open due to retirements, with no incumbent running. In Salem, Republican Bruce Ferguson is facing off against Democrat Evera Sue Clary. In Whitehall, Republican John Rozell is running against Democrat Peter Telisky.
Polls will be open from 6 a.m. to 9 p.m. Tuesday. To find your polling place, call your Board of Elections or go online to https://voterlookup.elections.state.ny.us/.