Consultant: Fort Edward, Hudson Falls school merger could net $44 million in special aid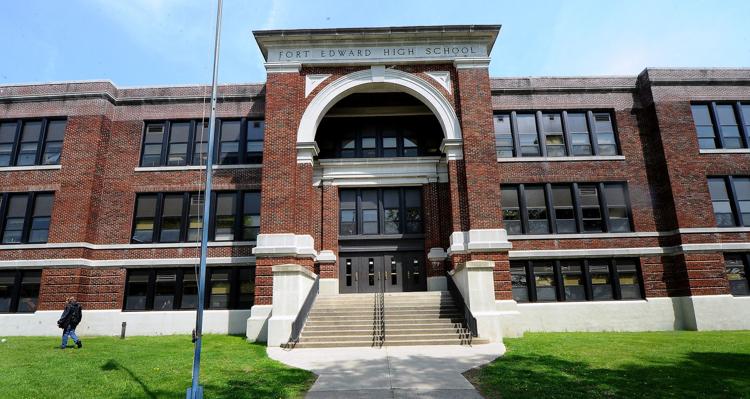 FORT EDWARD — If the Fort Edward and Hudson Falls school districts were to merge, the combined district would qualify for $44 million in special reorganization aid over the next 14 years, according to an analysis from a consultant.
The state would also pay 95 percent of any new building projects in the merged district, according to Jerry Steele of the Capital Area School District Association.
Fort Edward hired Steele to perform the study at a cost of $4,850 because it is facing fiscal challenges due to the loss of revenue from the shutdown of the General Electric Co. dewatering plant associated with the Hudson River dredging operation.

Fort Edward school officials stressed that no decisions have been made about the district's future.
"We want to have information so we can make a choice, if and when the time comes," said Superintendent of Schools Daniel Ward.
In a roughly hour-long presentation, Steele outlined the issues facing the roughly 480-student district. By analyzing birth rates and enrollment trends, he projected that the school's population would decrease to 448 students by the 2022-2023 school year.
Steele also said the district would face a gap between revenues and expenses, assuming no changes. The 2017-2018 budget actually is projecting a surplus of over $8,000. However, he said that would change to a $107,000 shortfall by the 2021-2022 school year.
If that gap is not closed, the district would have to tap fund balance to plug the hole.
The assessment of the former dewatering plan properties is a big question looming over the district. The tentative assessment of all village property would decrease its value from $139 million to $112 million. That assessment drop alone would increase the tax rate by $5.17 per $1,000 of assessed valuation, according to Steele.
Hudson Falls has been identified as a merger partner for Fort Edward dating back to a 1958 state master plan, according to Steele.
"It was right at a time when a lot of centralizations were taking place," he said.
Steele speaks from personal experience, as he was the last superintendent of the Maplewood school district, which was annexed into the North Colonie school district in 2008. His district faced a financial crisis because a company went out of business and wanted a half-million in taxes refunded.
"You're not in as bad a position as I was," he said, adding that he had to raise the tax levy by over 20 percent two years in a row.
He estimated that the tax rate in the newly combined district would drop for Fort Edward residents by $5.39 per $1,000 of assessed value, according to his estimates. Residents of the Hudson Falls Central School District would see their taxes increase by 84 cents per $1,000.
He said the district should use the current building as an elementary school for the Hudson Falls school district.
Steele said his former school is being used for a wraparound program for kindergarten and special education students.
"They're using that building to the fullest extent," he said.
Steele explained that if Fort Edward and Hudson Falls went forward with a merger, they would hire a consultant for a more thorough study. The consultant would get public input.
Then, the school boards would schedule a nonbinding referendum, which would give the state education commissioner a sense of whether there is support for the idea. A binding referendum would follow and the merger typically takes effect the next July 1 — the start of the new fiscal year for school districts.
The district could lease space in its building to BOCES or some other organization, according to Steele.
Fort Edward has been awarded $75,000 in a Community Schools grant in the latest budget. That funding can be used for partnerships with other community service agencies, Steele added.
One of the Fort Edward school board members, Ella Collins, lived through the process when she was superintendent of Abraham Wing School in Glens Falls. Voters rejected a merger with the Glens Falls City School District on three separate occasions.
Another option is for Fort Edward to pay tuition to send its students in grades 7-12 to Hudson Falls.
Using current year data, Steele said it would cost Fort Edward about $800,000 to tuition out 211 students in grades 7-12 at a rate of $3,763 per pupil. That compares with $1.88 million in salaries and benefits costs for Fort Edward's teachers for grades 7-12.
However, Steele cautioned that the savings could be erased, depending on how the state runs the education funding formula. Aid is awarded to districts on a per-pupil basis.
Ward said the state has not run the education funding formula the proper way in several years. The state just takes the current year's amount and factors in an increase. No district receives any less aid than it received in the current year, which would not be the case if the formula was used, because it factors in enrollment.
For example, Fort Edward's formula was based on a population of 577 students, according to Steele.
He said this issue would require further investigation if the district decided to go that route.
"If you're going to lose that (aid), you want to know that up front," he said.
Board President Thomas Roche said another wild card is the future of the former dewatering plant property.
"The thing that we're waiting for and hoping for is to see what's going to park in that land there," he said.