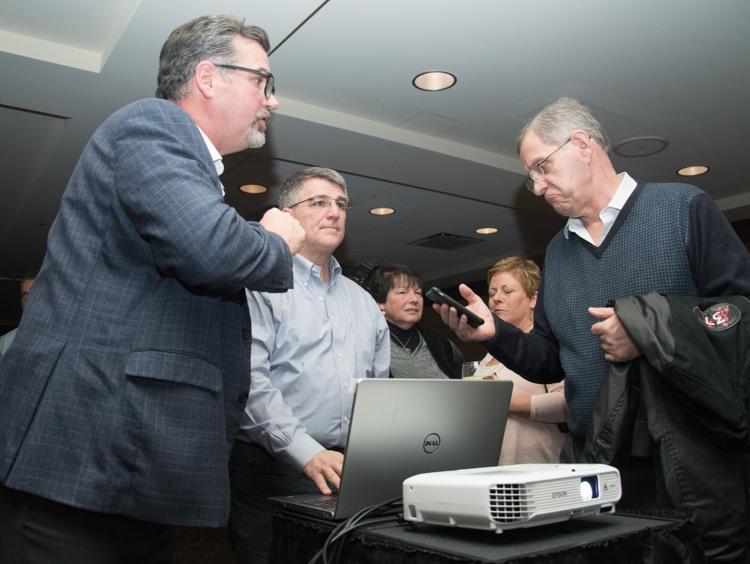 QUEENSBURY — Former Councilman Doug Irish is taking much of the blame for the town election that swept Democrats into the majority for the first time ever.
"I should've resigned," he said, adding that he will try to help future candidates learn from his mistakes.
"Including never letting ego influence your decisions," he said.
Democrats won in an election that had the highest voter participation in recent history for local Queensbury elections. Last year, 42 percent of registered voters participated in the election. By comparison, in the last contested supervisor race in 2009, the turnout was 34 percent.
So many people voted in 2017 that turnout rivaled the last governor's election in 2014, when 49 percent of registered voters voted in Queensbury. It did not come close to the participation rate for the presidential election. In 2016, turnout was 77 percent.
But actions by various Republicans motivated many people to come to the polls last November. Irish said he realized, too late, that the Republicans running for office should repudiate him.
The losses were partly due to his actions, he said, adding that he takes so much blame that he would say only that the losses were "not completely my fault."
Irish had refused to resign from his Town Board seat despite moving to North Carolina in July to take a full-time job. He was also one of three Republicans in an email conversation in which Irish proposed having others campaign for Ward 1 candidate Hal Bain, who no longer wanted to run for office. He told Bain he could resign after winning and the Republicans would be able to pick someone else.
At the polls, voters said they did not like the idea that they were voting for an unwilling candidate who would be replaced by an unknown person.
Irish realized that voters were turning against Republicans over those issues, and resigned on Oct. 23, two weeks before the election. It wasn't enough to turn the tide.
"I should have resigned in August," he said. "She (Seeber) should've been smart enough to say, 'Doug, you should resign.'"
He told her to call him out.
"I told her if you have to take a hard line, do it," he said. "I think one of the problems was, Rachel is loyal to a fault."
Seeber has called the election a "perfect storm" in which other issues were not discussed as thoroughly as the ethical problems. But Irish isn't convinced.
"I do think the issue was more about me not resigning and her not calling me out on it than about the issues," he said. "Overall, it was as she described 'a perfect storm,' but it would have been nice to have it decided on the candidate's platforms than on multiple opinion pieces and negative stories in The Post-Star linking (Councilman) Brian Clements and Rachel Seeber to an issue they had nothing to do with."
As for the Hal Bain campaign, Irish blames Bain. The 72-year-old man had just been appointed to a vacancy on the town Republican Committee and had never campaigned door-to-door before. While Bain said he got out because the race turned "negative," Irish said he clearly didn't want to do the work of campaigning.
"The driveways are really long, the dogs are really big," he said. "I think I made a big mistake with trusting Hal Bain."
Irish resigned from the GOP committee, but Warren County Republican Committee Chairman Mike Grasso asked him to accept a reappointment. Irish accepted it and voted by proxy in the crucial organizational meeting in which some thought Grasso would lose his chairmanship. He kept it, but agreed to let a new executive committee take over some of his work.
"I shouldn't have a role and did resign," Irish said. "He asked me to stay on as long as I can and I agreed. If I have any knowledge of 'landmines' that can help other candidates, I'm glad to help."
His main 'landmine' lessons so far: Resign if you move away, don't listen to your ego and don't pick a fight with a newspaper, he said.
Seeber disagreed with Irish's assessment, saying her loyalty to him was not a factor in the election.
"Loyalty has nothing to do with this. My loyalty is to the people of Queensbury. It's their voice I wanted to represent. I ran to represent the citizens of Queensbury. Period," she said.
She strongly supported the idea of video-conferencing. But she added that Irish knew she thought he should resign when the Town Board would not allow him to attend meetings by videoconference.
"I told voters this on their doorsteps," she said. "As I have said many times, Doug Irish makes decisions for Doug Irish. I can only control my own actions. And as you know, I'm not afraid to speak up or out, evidenced by my continual advocacy for people in our community. I'm disappointed in the election results, but the people spoke and they made their decision."
She and Irish both said that The Post-Star focused too much on Irish's residency and the Hal Bain situation and not enough on Seeber's platform, leaving her to be linked to the "drama," as Seeber put it.
"Despite social media and door-knocking, I was unable to overcome it," she said. "If you want to reflect upon loyalty, perhaps it's your paper's loyalty to (Supervisor) John Strough and slanting a narrative versus letting voters read the facts and decide for themselves. The Post-Star worked very hard for John Strough and the Democrats. I can only assume that was because of loyalty."