BLOG: A sad day in Washington County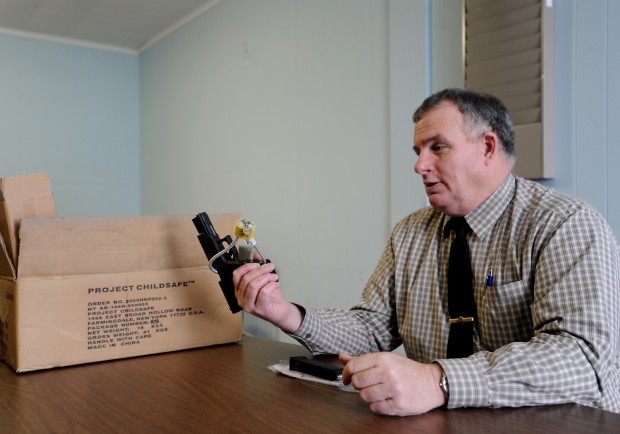 I woke up around 3 a.m. Monday with a nasty stomach bug. Little did I know, that wouldn't be the worst part of day.
When I got to my phone around 5:30 a.m., I saw texts from a couple of Washington County law enforcement contacts that stopped me in my tracks. George Bell had died hours earlier.
Sitting here at home, reporting the story between bouts of gastroinestinal blitzkrieg, I'm still in shock. George Bell had been a cop for almost as long as I have been alive, and a damned good one at that. This can't be true.
Even the state troopers who responded to his home late Sunday and early Monday figured it had to be one of George's jokes, that he would open his eyes and say "Gotcha!"
Tragically, it's not a joke. The guy who was as much a part of the fabric of southern Washington County as anyone I know is gone. The Washington County law enforcement community has lost three stalwart members to heart problems way too young in a matter of a few years.
It's not just a devastating blow for his law enforcement colleagues and loved ones, but it's a tough day for public safety in Cambridge and Greenwich, where he served as police chief.
George was the police department in these villages, a prototypical small-town cop. As they dealt with wave after wave of turnover, he was the constant that kept them afloat amid talks of mergers. And we in the media loved his candidness and willingness to cooperate with us in an era where that is becoming a rarity.
Part of the reason why the departments persevered is because George responded to pretty much every serious or somewhat serious call, 24/7, during his 20 years as chief. I remember him taking one vacation in the years I knew him. He worked ever day, never complained and was always friendly and upbeat.
That schedule takes a toll on a guy, and he had a heart attack a year or so ago. But in true George Bell fashion, he returned to work despite the fact he could have literally retired decades ago.
(He had sought medical treatment earlier Sunday at Southwestern Vermont Medical Center when he hadn't felt well for a period of time over the weekend, but was sent home with a diagnosis of the flu, according to police. He collapsed hours later at his home.)
No one can fill his shoes.
George was one of the few cops who was on the job around here when I started my career as a cops-and-courts reporter in the early 1990s. There are only a handful of them left, and they hold a special place with me. They are guys who could have hung it up years ago, but haven't because they truly know only a life of serving the public.
I just talked to George about a case Thursday or Friday, and before we hung up I asked about the Jaliek Rainwalker investigation, which has had some activity in recent weeks. He seemed optimistic at some recent progress, and had long said his life mission was to solve that case. (Relatives of Rainwalker are among those who are mourning the loss, praising him on social media and knowing that he did all he could to bring Jaliek's killer or killers to justice.)
He ended the conversation with "Have a good weekend buddy."
The stomach bug is the least of my cares at this point.