BLOG: Recalling a story of heroes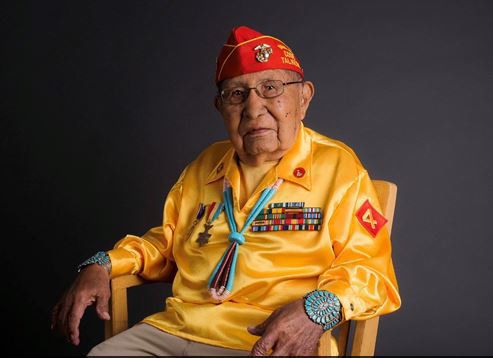 Teachers always have their favorite topics, and for me, wars were always at the top of the list, especially the American Civil War, World War II, Korea and Vietnam.
I was fortunate enough to teach at Peabody Veterans Memorial High School in Massachusetts, and with a name like that – and with more than a dozen veterans'organizations in the city — we did a lot with veterans.
So when I saw that Navajo Code Talker David Patterson, Sr., had died last week at age 94, in Rio Rancho, New Mexico, I felt a little sadness. We are losing more and more World War II veterans every day, and while Patterson was not the last of the Navajos and Hopi who used their language to keep the Japanese from learning out battle plans, he was one of the few remaining.
While at Peabody, I had a chance to meet Chester Nez, another Code Talker who has passed away, and the author of the book "Code Talker," when he came with his son to speak to our students.
Now here's what was amazing: Auditorium full of more than 900 students, and it was absolutely hear-a-pin-drop quiet.
This was after the Nicholas Cage movie "Windtalkers" came out, so of course the students wanted to know if it was true that the Marine partners of the Native Americans were actually tasked with killing them rather than letting the Japanese capture them.
Nez was ailing even then, more than a decade ago, and he spoke in a soft voice, barely above a whisper that the students focused on intensely, gasping a little when he said that, yes, their bodyguards were to kill them so they could not be captured. He added that he agreed with it, and was relieved it never came to that.
The discussion back in the classroom focused clearly on the word "hero."
It was one of those days that make teaching worth it.
Bill Toscano covers education and social issues for The Post-Star. You can read his blog at poststar.com/blogs or his updates on Twitter, @billtoscano_ps.